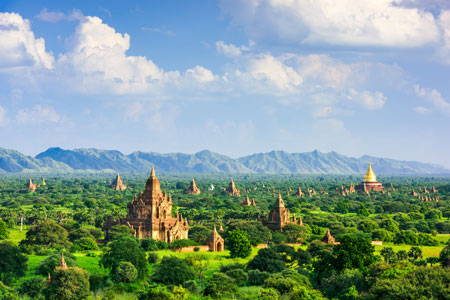 Yangon has earned the nickname 'The Garden City of the East' due its lush green trees, shaded parkland and beautiful lakes. But Yangon (formerly Rangoon) is also the commercial and increasingly cosmopolitan capital of Myanmar.

From the port Thilawa, a visit to Yangon reveals a mix of British colonial architecture, modern high-rises and gilded Buddhist pagodas that define its eclectic skyline.[ReadMoreMob] The downtown pavements are one huge open-air market, and feature some of the most impressive colonial architecture in Southeast Asia, alongside a swathe of new shops, restaurants and bars.

The city has barely changed at all, and the Shwedagon Paya, a glistening, awe-inspiring golden Buddhist monument is seemingly the centre of everything. An eye-catching wealth of colour and pigments on its 326ft-high curved exterior gives way to the top of the Pagoda's crown which is encrusted with diamonds, rubies and other gemstones. Locals and monarchs often donate gold to ensure this incredible structure maintains its beauty.

The city's other notable religious sites include the Botataung and Sule Pagodas, both containing Buddhist relics.
Top Experiences
Shwedagon Pagoda
No visit to Yangon would be complete without admiring the 'Crown of Burma' – the magnificent Shwedagon Pagoda, which is home to an amazing complex of shrines and pavilions. It is Myanmar's most sacred site, with its 326ft-tall gilded stupa, and a dome bewjelled with more than 6,500 diamonds and precious stones.
Bagan Temples
Yangon is the gateway to the ancient city of Bagan, located in the Mandalay Region of Myanmar. Bagan is home to the largest and densest concentration of Buddhist temples, stupas and pagodas in the world – no fewer than 10,000 Buddhist temples were constructed here between the 11th and 13th centuries. Over 2,000 have survived to the present day, creating a truly inspirational panorama.
Mandalay
This is the former royal capital of the Burmese kingdom and today is home to an impressive array of temples, pagodas and monasteries.