West Point Island Cruises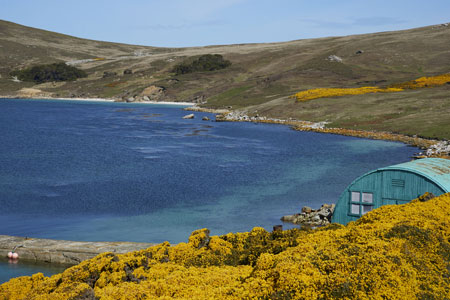 Privately-owned West Point is one of the Falkland Islands, and this rocky outcrop to the north west of the archipelago is home to the Napier family – and to countless seabirds.

The island boasts around 70 per cent of the world's breeding black-browed albatrosses, and is a popular spot for Rockhopper penguins and Southern giant petrels.[ReadMoreMob]

The tiny island is no more than 6km long and has ruggedly-impressive scenery, particularly to the south where 350m-high cliffs face out over the South Atlantic. This contrasts with the bay on the east coast, where the Napier farmhouse is sheltered from the prevailing westerly winds by surrounding hills. The climb up the hill from the bay to the main promontory on the island, Devil's Nose, reveals the vast bird colonies.
Top Experiences
Devil's Nose
West Point Island features juxtapositions of sandstone cliffs and low-lying greenery. A particular highlight is the 'Devil's Nose', a rocky promontory where pairs of nesting southern rockhopper penguins and black-browed albatrosses reside.
Falkland Inhabitants
Allan and Jacqui White manage and maintain the island (which is actually owned by Roddy Napier) and as such have many a story to tell. The couple can often be found treating cruise ship guests to a spread of tea and homemade cakes in china cups.
Albatrosses and penguins
Originally giving their name to the island, albatrosses are in abundance here, specifically the black-browed albatross with their distinctive dark eye markings. Rockhopper penguins live alongside albatrosses, particularly in the 'Devil's Nose' area.
Cruises to West Point Island
Departs: Buenos Aires • Wed 29 Jan 2020
20 nights • Balmoral • L2001B
Experience a Patagonian exploration of epic proportions on board Balmoral, taking in breathtaking waterways, awe-inspiring ice fields and a string of unforgettable destinations along the way.
After a visit to glamourous Punta del Este, enjoy two rare calls to the Falkland Islands to unearth the fascinating history, picturesque scenery and endemic wildlife of this famously disputed archipelago.
A Chilean adventure includes visits to four diverse ports, including Puerto Chacabuco, gateway to the mountains of Lower Patagonia and the Andres; and scenic cruising of spectacular snow-capped Chilean fjords.
Please call our Reservations Team for latest pricing and availability.
Departs: Buenos Aires • Wed 29 Jan 2020
47 nights • Balmoral • L2001BC
With scenic cruising of incredible waterways and visits to stunning South and Central American destinations, topped off with time in the Caribbean, you're in for an expedition packed with highlights.
There's two rare calls in the Falklands; chances to marvel at the spectacular scenes of Lower Patagonia, the Andes and Chilean Fjords; and three days in Peru, with time to tour to magical Machu Picchu.
You'll also experience a navigation of the remarkable Panama Canal, and visit two historic cities in Costa Rica and Colombia, before enjoying a taste of paradise in Curacao, Bonaire, Barbados, Antigua and St Kitts.
Please call our Reservations Team for latest pricing and availability.