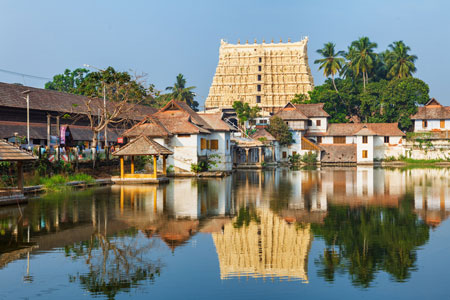 At the Southern tip of India, the capital city of Kerala, Vizhinjam is known as "God's own country". This busy port is flooded with fishing boats that push out in the dawn light to return by dusk. The rustic and earthy village, overlooked by a majestic orange and white mosque, possesses a unique atmosphere.
Pagoda-shaped buildings with red-tiled roofs line the narrow, winding lanes, and life slows as you head away from the main strip.[ReadMoreMob] The Shree Padhmanabhaswamy Temple, dedicated to Lord Vishnu, is an 18th century rock- cut temple adorned with some truly amazing sculptures, and has been held sacred by Hindus since antiquity.
While the port's sublime beaches are the main pull for visitors, elsewhere the Marine Aquarium in Vizhinjam has rare aquatic species including squirrelfish and triggerfish.
Top Experiences
Temples
Vizhinjam Rock Cut Cave Temple is a historic monument featuring 18th century rock cut sculptures, which were unnoticed for centuries. Considered to be the smallest rock-cut shrine in southern India, the Vizhinjam Rock-cut cave dates to the back to 8th century. This rock cut cave is now a protected monument under the control of the Archaeological Survey of India since 1965.
Lighthouse
Situated ten kilometres from Trivandrum city is the ancient, red and white striped Vizhinjam lighthouse. Constructed in 1925, the lighthouse stands at 57 metres above sea level. Capture stunning views of the Arabian Sea from atop the lighthouse as you climb the 144 steps.