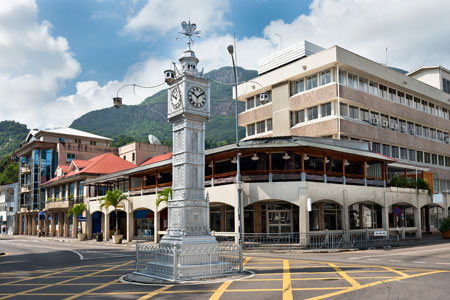 Surrounded by turquoise swells of the quietly rippling Indian Ocean, and sprinkled with dense forests and tall hills offering breath-taking views, Victoria, on the Seychelles island of Mahé, is the epitome of paradise.

The port is one of the smallest capitals in the world and offers visitors a number of highlights to discover. The colourful Sir Selwyn Clarke Market sells spices, fruit, art and souvenirs. Near the Cathedral of Our Lady of Immaculate Conception is the imposing La Domus, built in 1934 to house Catholic missionaries, while the quaint old courthouse has a clock tower that is a replica of Big Ben.

The island's pristine, golden sands are best seen from the top of Morne Blanc, which delivers breath-taking panoramic views across the lush landscape. Seychelles National Botanical Gardens showcases endemic palms and orchids, as well as giant tortoises and fruit bats, and is worth a visit.


Destination Highlights
Giant Tortoises
Moyenne Island is a small island of only 0.089 square kilometres located in the St. Anne Marine National Park off the north coast of Mahe. In 1962, an English man bought the island, planting 16,000 tress, building 4.8kms of natural paths and buying and breeding giant tortoises. The island is now home to around 120 giant tortoises. Now known as the Moyenne Island National Park, it harbours more species per square foot than any other part of the world.
Moyenne Island & Snorkelling
In the Seychelles, the marvels of Moyenne Island are within reach on catamaran cruises from Mahé. After a short sail to Moyenne, the chance to step ashore and explore the gorgeous, unspoilt landscapes in search of native giant land tortoises is not-to-be-missed. The journey from Mahé to Moyenne often includes a stop within St Anna Marine Park too, with time to snorkel rich corals submerged in warm, crystal-clear waters.