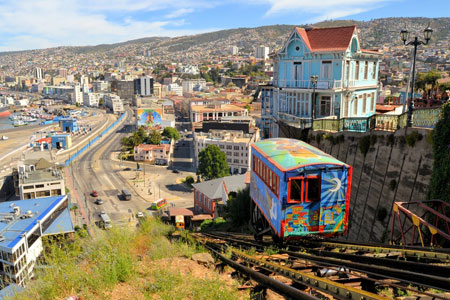 Valparaiso boasts many staircases and lifts which are now considered historic features of this wonderful port. The funicular railways carry visitors high up into the hills to enjoy the astonishing views over the historic streets and narrow winding lanes below. This fantastic experience has been considered a historic feature of the city and is a real 'must-do' on a visit to the city.
Alongside historic buildings and charming alleyway-shops, It's not unusual to stumble across splashes of artwork when exploring the centre of Valparaiso, making this port a very colourful and visually stunning place to be.[ReadMoreMob] You will also notice the style of architecture isn't always consistent; there are many varied styles, modern and traditional Chilean.
Cruises to Valparaiso
Departs: Buenos Aires • Wed 29 Jan 2020
20 nights • Balmoral • L2001B
Experience a Patagonian exploration of epic proportions on board Balmoral, taking in breathtaking waterways, awe-inspiring ice fields and a string of unforgettable destinations along the way.
After a visit to glamourous Punta del Este, enjoy two rare calls to the Falkland Islands to unearth the fascinating history, picturesque scenery and endemic wildlife of this famously disputed archipelago.
A Chilean adventure includes visits to four diverse ports, including Puerto Chacabuco, gateway to the mountains of Lower Patagonia and the Andres; and scenic cruising of spectacular snow-capped Chilean fjords.
Please call our Reservations Team for latest pricing and availability.
Departs: Buenos Aires • Wed 29 Jan 2020
47 nights • Balmoral • L2001BC
With scenic cruising of incredible waterways and visits to stunning South and Central American destinations, topped off with time in the Caribbean, you're in for an expedition packed with highlights.
There's two rare calls in the Falklands; chances to marvel at the spectacular scenes of Lower Patagonia, the Andes and Chilean Fjords; and three days in Peru, with time to tour to magical Machu Picchu.
You'll also experience a navigation of the remarkable Panama Canal, and visit two historic cities in Costa Rica and Colombia, before enjoying a taste of paradise in Curacao, Bonaire, Barbados, Antigua and St Kitts.
Please call our Reservations Team for latest pricing and availability.