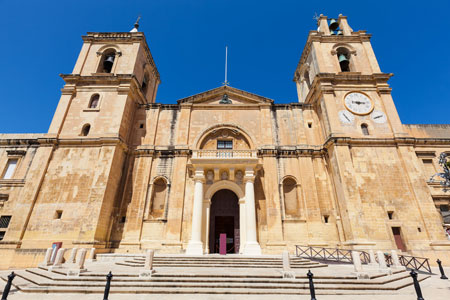 Malta's 16th century walled capital of Valletta, with its Grand Harbour, is a treasure-chest bristling with Baroque architecture. This most scenic of ancient ports echoes the epic, heroic history of the tiny island it nestles on.

Centuries of invasion and siege have brought the influence of Romans, Phoenicians, Greeks, Arabs, Normans, Crusaders and the British – all leaving an enduring mark on Valletta's cultural heritage. Home to The Knights of Malta, an order created in the Middle Ages, the town is known for museums, palaces and grand churches.

Baroque landmarks include the ornate St. John's Co-Cathedral; its opulent interior is crowned by Caravaggio's masterpiece "The Beheading of Saint John." Other noteworthy attractions include the National Museum of Archaeology, the 16th century Casa Rocca Piccola Palace and the military artefacts in the National War Museum.

The cityscape is probably one of the most stunning in the Mediterranean – the city's sun-drenched stone walls have an almost permanent warm, honey hue, while colourful, decorative balconies overlook the worn and tethered streets below. Fine restaurants and shops leap out from side streets or are tucked away in charming courtyards.

Valletta is also well-situated to discover the silent city of Mdina, a fortified city in the Northern Region of Malta and home to the Roman burial complex of St. Paul's Catacombs.