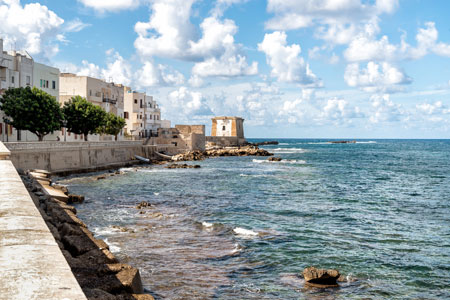 Located on the western coast of Sicily, the beautiful city of Trapani is a fishing port with a long history renowned for its Baroque-style architecture. The sickle-shaped spit of land Trapani's Old Town occupies, was once the heart of a great trading network stretching from Carthage to Venice.

Trapani's highlights include The Dovecote, the city's offshore medieval fortress, the restored 14th century Cattedrale di San Lorenzo, and the 17th-century Torre di Ligny watchtower, which houses the Museo di Preistoria e del Mare and its many archaeological artefacts. North of the impressive harbour, the Chiesa del Purgatorio Church holds wooden sculptures that are paraded through the city during Easter's Processione dei Misteri.

There are several beautiful boulevards to walk around and enjoy, including Mura di Tramontana – arguably the prettiest of them all. A good range of shops and restaurants are on offer to enjoy and the boulevard delivers great views of the bay.