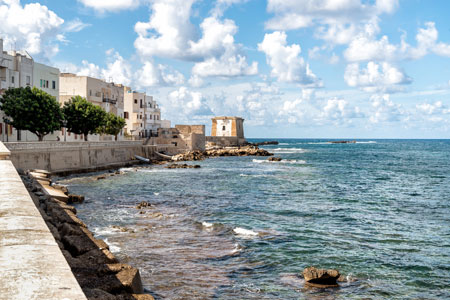 Located on the western coast of Sicily, the beautiful city of Trapani is a fishing port with a long history renowned for its Baroque-style architecture. The sickle-shaped spit of land Trapani's Old Town occupies, was once the heart of a great trading network stretching from Carthage to Venice.

Trapani's highlights include The Dovecote, the city's offshore medieval fortress, the restored 14th century Cattedrale di San Lorenzo, and the 17th-century Torre di Ligny watchtower, which houses the Museo di Preistoria e del Mare and its many archaeological artefacts. North of the impressive harbour, the Chiesa del Purgatorio Church holds wooden sculptures that are paraded through the city during Easter's Processione dei Misteri.

There are several beautiful boulevards to walk around and enjoy, including Mura di Tramontana – arguably the prettiest of them all. A good range of shops and restaurants are on offer to enjoy and the boulevard delivers great views of the bay.
Destination Highlights
Marsala Wine
Marsala is a wine, dry or sweet, produced in the region surrounding the Italian city of Marsala in Sicily. It is commonly used to create rich caramelized sauces. There are two styles of Marsala to know for cooking and they are dry vs. sweet, but Marsala is so much more than a cooking wine. It can be made dry and fine enough for sipping, like Sherry or Madeira. Marsala wine has a unique taste for two reasons: the use of only Sicilian indigenous grapes and a complex winemaking process. Flavours in Marsala can include; apricot, vanilla, tamarind, brown sugar, tobacco.
Salt Pans & Riserva Naturale Saline Di Trapani E Paceco
Riserva Naturale Saline Di Trapani E Paceco is a nature reserve featuring Mediterranean plant life and wildlife, as well as a museum in an old salt mill. In the museum, you can learn about the history of extracting salt from the sea and the changing processes used over time. Keep an eye out for flamingos, egrets, herons, cattle, and many other animals. Founded in 1995, its area of 987 hectares consists of two zones (Zona A and Zona B). The halophyte flora which is adaptable to the salt marshes and the soils with high salt concentrations is represented by some of the rarest plants of Sicily, like the sea marigold.
Segesta
The archaeological site of Segesta is one of the most valuable historic sites in Sicily. A centre from ancient origins, the historic rival of Selinunte is located in the western part of the island, surrounded by a green and quiet countryside about 40 km from Trapani. There is a beautifully preserved temple, harmonious in structure, and the most complete that has lasted to our days, as well as the theatre, located in a scenic location on Mount Barbaro, approximately 400 metres high.