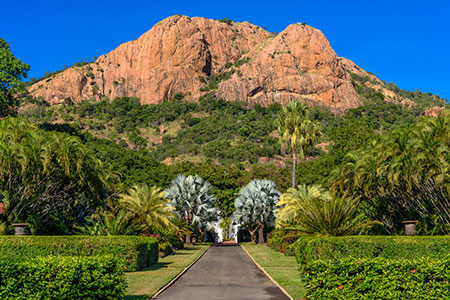 Townsville is a vibrant region that encompasses beautiful coastal towns, rainforests, rugged Outback and country terrain. But the appeal of this lovely region expands further from the city of Townsville.
To the east sprawls the Great Barrier Reef, one of the seven wonders of the natural world, and it isn't hard to see why.[ReadMoreMob] It is larger than the Great Wall of China and is the only living thing on earth visible from space. To the west of Townsville you will find the vast outback while to the north stands lush rainforest, while in the city centre you will find the world renowned Reef HQ - the world's largest living coral reef aquarium - the Billabong Sanctuary, where you can learn all about Australia's fascinating wildlife, and many other cultural and heritage attractions.
Top Experiences
Reef HQ
The world's largest living coral aquarium, this is considered one of the top aquariums in the South Pacific and is home to thousands of marine creatures in addition to the huge coral reef exhibit.
Billabong Sanctuary
A wildlife park located in Nome, these 25 acres of natural bushland are home to koalas, kangaroos and wallabies as well as a whole host of other wildlife.
Magnetic Island
Magnetic Island's relaxed lifestyle, abundant wildlife and easy access to the Great Barrier Reef make it a worthwhile attraction. A 25-minute ferry ride from Townsville, it sits within the UNESCO-listed Great Barrier Reef Marine Park, albeit with a rocky landscape that differs from the usual tropical rainforest found on many of the Great Barrier Reef islands. Magnetic Island has less rainfall than the Wet Tropics to the north and the Whitsundays to the south
Cruises to Townsville
Departs: Benoa • Wed 11 Dec 2019
28 nights • Boudicca • D1929
An abundance of Australian icons await you on this unforgettable exploration of the land 'Down Under', with visits to coastal towns, cities and islands of three sides of Australia offering famous wildlife, natural wonders, quintessential beaches and landmarks.
Highlights include Broome's beautiful Cable Beach; historic Albany, where Australia's first European settlers landed; Kangaroo Island, home to wild kangaroos, wallabies and koalas; an overnight stay in Melbourne, the 'World's Most Liveable City'; and scenic cruising of the breathtaking Great Barrier Reef.
Visiting Sydney on New Year's Eve will be simply unforgettable, with a chance to experience all the excitement of legendary festive celebrations, including the city's spectacular fireworks display. An extended stay allows time to discover iconic sites, such as the Opera House and Bondi Beach, too.
From £2,699pp
Fares Explained
|
What's Included
Departs: Benoa • Thu 12 Dec 2019
42 nights • Boudicca • D192901
Explore three sides of the land 'Down Under' to discover Australian icons including native wildlife, world-famous landmarks and even legendary New Year's Eve celebrations before heading to Papua New Guinea and Indonesia for feast of history, culture and spectacular natural beauty.
In Australia, you'll visit beautiful Broome, Fremantle – for tours to Perth – and historic Albany on the west coast; sail the south coast, stopping at Kangaroo Island, Melbourne and Hobart; and on the east coast, visit Sydney on New Year's Eve and marvel at the wonders of the Great Barrier Reef.
Calls at Alotau, Wewak and Madang present opportunities to immerse yourself in Papua New Guinea's authentic tribal culture and fascinating war-influenced history; while in Indonesia, magical islands await, including Komodo Island – home to the world's largest lizard – and idyllic Bali.
From £4,199pp
Fares Explained
|
What's Included