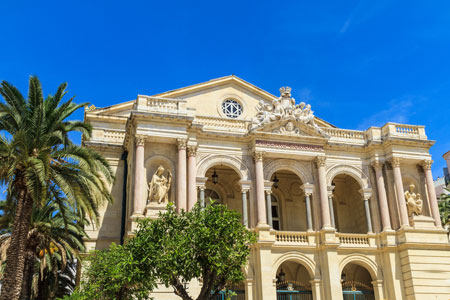 With a beautiful natural harbour and surrounding hills topped by forts, Toulon has long been one of France's main maritime centres. In the old town, close to the harbour, the Romanesque Cathédrale Sainte-Marie-Majeure dates from the 11th and 12th centuries.
In front of the town hall and the naval museum, the columns are carved figures of men, known as atlantes or caryatids – it is a style borrowed from Ancient Greece.[ReadMoreMob] The naval museum itself is interesting, with models of ships, displays about galley slaves and pirates and equipment ranging from wheels to figureheads. The Toulon Museum has collections of art from the past 500 years.
On Cours Lafayette in the Old Town there is a fabulous open-air market selling fresh fruit, vegetables and charcuterie. It's open every morning apart from Monday and it's worth visiting just to savour the smell of fresh herbs and lavender that hangs in the air.

Top Experiences
Mt Faron
Mount Faron dominates the city, standing 584 metres. The top is accessible by cable car, offering stunning views over the city and harbour.
Military History
Toulon, now a major naval centre, has a rich military history. During the Napoleonic Wars, the city was blockaded by Nelson for around three years. During WWII, the German Army's occupation of southern France led to the scuttling of the French Fleet and Toulon in 1942.