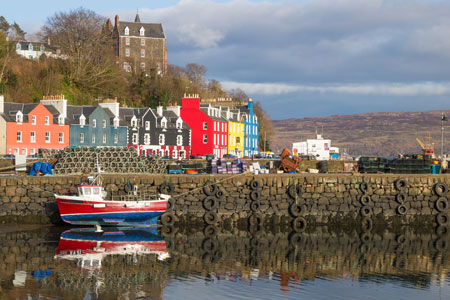 Built as a fishing port in 1788, based on a design by Thomas Telford, Tobermory is now the main village on the remote island of Mull. This little village with brightly-coloured houses that run from the main street down to the pier, is one of the prettiest and most iconic ports in Scotland.
The name comes from the Gaelic, Tobar Mhoire – Mary's Well – and water from it (now gone) was believed to have medical properties.[ReadMoreMob] The Mull Museum on the main street celebrates the island's history, with artefacts that include working implements used by local craftsmen. Legend has it that the village's sheltered bay is where one of the Spanish Armada ships sank in 1588 carrying gold bullion.
Tobermory Distillery, the only one on Mull, was founded in 1798. It has been closed and reopened several times – the most recent reopening in 1990. The buildings are the original ones from when the Distillery first opened. Today it produces a malt and a blend, known as Tobermory the Malt.
Top Experiences
Duart Castle
Duart Castle sits on one of the most spectacular and unique positions on the West Coast of Scotland. Brought back from ruin in 1911, the castle treasures 800 years of history of one of Scotland's oldest Clans, The Macleans. Read about the turbulent past of the Clan, the battles and the love stories. Explore the Keep and Dungeons, Banqueting Hall and Edwardian State Rooms. Within the Castle grounds, discover Millennium Wood and Duart Point, a promontory that can be explored on foot.
Aros Park
Aros Park is often regarded as Tobermory's back garden, however this area of woodland is much more than that. The park is a favourite among hikers, featuring many trails that will take you through attractive woodland, that are lush with ferns. The park offers superb views of the surrounding vistas, and at Alainn View, there is an impressive lookout point, which will take visitors high into the treetops.
Sound of Mull
The Sound of Mull is a stretch of water that separates the Isle of Mull from mainland Scotland. A boat trip along the Sound of Mull offers the opportunity to admire the wonderful scenery, soak up tranquil surroundings and keep an eye out for a variety of wildlife that often visit the area, including common and bottlenose dolphins, seals, basking sharks and seabirds.
Cruises to Tobermory, Isle of Mull