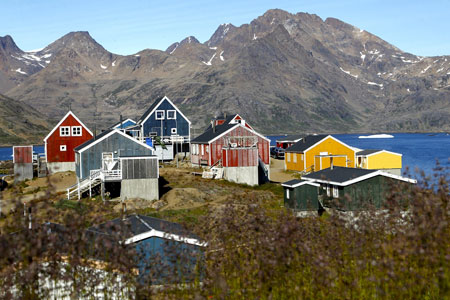 Set within a stunning fjord and surrounded by tall mountain peaks and impressive icebergs, the tiny town of Tasiilaq is one of Greenland's most beautiful destinations. The village is the perfect starting point to explore this astonishing landscape; known by locals as Greenland's 'face towards the world'.
The town centre has an array of colourful, traditional houses and delightful amenities including a charming bakery, restaurant, quaint post office plus an interesting museum.
Thanks to its incredible locale, Tasiilaq is perfect for hiking, alpine climbing and kayaking. A slice of local life can be experienced exploring the island on a dog sled. Alternatively, heading out on the water is often rewarded with the sight of seals and whales swimming the glorious ice-filled waters. Across the fjord lies the remarkable Kiattut Glacier and the renowned Flower Valley, where panoramic views fill with Arctic hares, foxes and sea eagles in their untouched, natural habitat.
Destination Highlights
Flower Valley
Experience the local wildlife and stunning scenery of Greenland in the Flower Valley, which grows arctic thyme, arctic bluebells,arctic dandelions and the national flower, willow herbs. Here you will also see the impressive Kiattut Glacier.
Island Life
Take a walk around the small town and see the colourful wooden houses
the people here live in. You can also take a trip to the Ammasslik Museum, which provides an insight into the life and history of the island. This includes a number of East Greenlandic objects and traditional Inuit artefacts, such as masks and tupilags (carved figures). The main building of the museum is The Old Church, opened in 1908 and converted to a museum in 1990. There is also the Phot Museum, The Chapel, The Turf House and The Potato House.
Glaciers
Greenland is famed for its icebergs and glaciers, and what better way to
see them than on a boat tour around the east of the island, where you may also spot some whales.