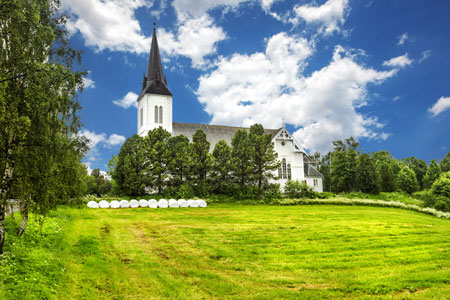 Sortland, the largest town of the beautiful Vesterålen archipelago, is one of Northern Norway's most unique destinations.
Nicknamed 'Blue Town', Sortland is almost entirely painted in various shades of blue, thanks to any idea put forward by artist Bjorn Elvenes at the start of the new millennium. Elvenes proposed that – with the help of other local artists and residents – Sortland should become a living 3D painting, and today the town's mix of architecture, comprising Swiss style wood, concrete and glass structures, is an exhibit of his vision.[ReadMoreMob] It's worth exploring the town to see how the blue colour scheme is developing alone, though there are plenty of attractions such as interesting art exhibitions, a beautiful early 20th century church and the pretty downtown, where you can enjoy 'Writings on a Field of Blue'.
Visiting Sortland offers chances to seek-out Vesterålen's natural treasures, too. Rugged, unspoilt countryside landscapes and miles of gorgeous island coastline are within reach, while the archipelago and its surrounding waters are also home to diverse wildlife, from seals and seabirds to whales. In the summer months it is possible to experience the magical midnight sun here; and in the winter, visitors might be lucky enough to witness the awe-inspiring Northern Lights.
Top Experiences
The Blue Town
Many of Sortland's buildings are painted in varying shades of blue, leading to this curious nickname. The project was started by artist Bjørn Elvenes in 1998. Elvenes envisaged Sortland as a three-dimensional painting, and a stroll through the downtown area displays the 'writings on a field of blue' (meaning literary decoration of the blue walls of the city) in the best possible way.
Møysalen National Park
The main attraction of this nature conservation area is Møysalen, a dramatic 1,262 metre mountain. Wildlife species here include white-tailed eagles, moose, otters, mink and foxes.
Arctic Char
This fish thrives in the cold arctic waters. The fish has a rich taste similar to trout and salmon, and is a light pink in colour. Nearby Sigerfjord Fisk is the world's largest producer of and also has a shop in Sortland.
Cruises to Sortland
Departs: Liverpool • Fri 25 Sep 2020
12 nights • Black Watch • W2027
Savour the effortlessly alluring scenery and tranquillity of breathtaking islands in Northern Norway, with explorations of the rugged and remote Lofoten and Vesterålen archipelagos.
Visit Leknes, for fascinating Viking history and scenes of mountain peaks and beautiful beaches; and the unique 'Blue Town' of Sortland; and experience scenic cruising by picturesque Reine.
Elsewhere, you'll stop overnight in Tromsø, home of the iconic Arctic Cathedral and Mount Storsteinen; and sail past the Torghatten and Seven Sisters mountains aboard Black Watch.
From £1,499pp
Fares Explained
|
What's Included
Departs: Liverpool • Thu 03 Jun 2021
12 nights • Black Watch • W2112
With chances to uncover rugged waterways and archipelagos, and experience the magic of the Midnight Sun, immerse yourself in Northern Norway's unrivalled drama and beauty.
Enjoy unforgettable small ship scenic cruising into spectacular Trollfjord, Raftsundet and by beautiful Reine; and explore ashore amongst Lofoten and Vesterålen's astonishing scenery.
Take in the attractions of Tromsø, including the iconic Arctic Cathedral and Mount Storsteinen; visit charming Kristiansund and Sandnessjøen, and see intriguing Torghatten too.
From £1,799pp
Fares Explained
|
What's Included