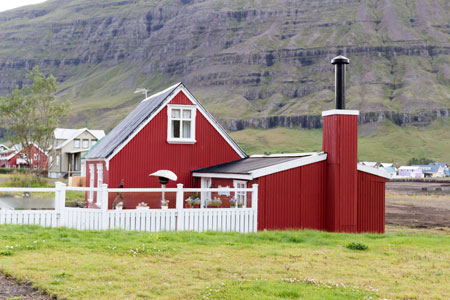 Nestled in between the beautiful Mount Strandartindur and Mount Bjolfur in the Eastfjords of Iceland, Seyðisfjörður is a unique place, and home to a unique collection of wonderfully preserved wooden structures.
Regarded as one of Iceland's most picturesque towns, Seyðisfjörður's remoteness makes a visit here even more special. The valley above the town echoes to the sound of the 25 thundering waterfalls formed by the river Fjaroara as it cascades down to a lagoon at the head of the fjord. Gufufoss is one of its very photogenic waterfalls.[ReadMoreMob]
With its small population of some 800 people, Seyðisfjörður is a relaxing place to explore. The Skaftfell Centre for Visual Art makes for a quaint cultural visit and has a pleasant bistro. Fishing, cycling, golf and kayaking are all on hand in this welcoming town.
Top Experiences
Fishing Seyðisfjörður
There is a long tradition of fishing in Seyðisfjörður, particularly herring fishing. You can take a boat out to sea with a local fishing expert and try your hand at catching a fish, cleaning and filleting a fish, which you can then even have cooked for you for dinner at the Hotel Aldan restaurant. While out on the boat, keep an eye out for whales, seals, puffins and other sea birds.
The Blue Church
The Blue Church is one of the island's most recognisable landmarks, due to its distinctive blue hue. The church has been destroyed and re-built several times and has even been moved twice. During the summer, you can enjoy one of the weekly concerts, featuring
different music each time, from jazz, to folk, to organ music.
Skálanes
Skálanes is a 1250-hectare nature reserve located off the beaten track at the mouth of the Seyðisfjörður. The nature reserve is owned by Ólafur Pétursson and his family, and is home to more than 40 different species of birds. Skálanes offers a great place for visitors to escape and unwind, boasting imposing snow-capped mountains, a secluded shoreline and vibrant meadows. The area is known for its eider ducks, the feathers of which are responsibly sourced and turned into duvets.