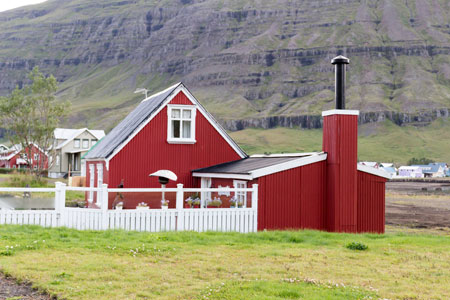 Nestled in between the beautiful Mount Strandartindur and Mount Bjolfur in the Eastfjords of Iceland, Seyðisfjörður is a unique place, and home to a unique collection of wonderfully preserved wooden structures.
Regarded as one of Iceland's most picturesque towns, Seyðisfjörður's remoteness makes a visit here even more special. The valley above the town echoes to the sound of the 25 thundering waterfalls formed by the river Fjaroara as it cascades down to a lagoon at the head of the fjord. Gufufoss is one of its very photogenic waterfalls.
With its small population of some 800 people, Seyðisfjörður is a relaxing place to explore. The Skaftfell Centre for Visual Art makes for a quaint cultural visit and has a pleasant bistro. Fishing, cycling, golf and kayaking are all on hand in this welcoming town.