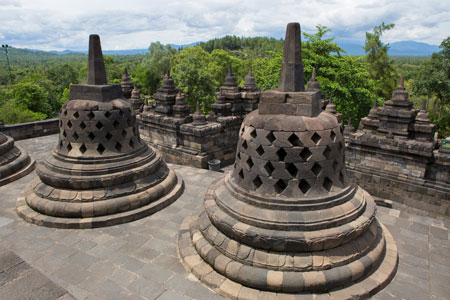 When hearing 'Semarang', our minds often flit to the sensational Borobudur Temple, first built in the 8th and 9th centuries by the Sailendra Dynasty. With a fantastic tour to walk around the grounds and along the steps of enlightenment, your stop here would not be complete without a visit.
Alternatively, jump at the opportunity to explore the many rice paddies and vast rural spaces which are simply breath-taking, and on a beautiful sunny day, can be a therapeutic and relaxing contrast to the busy inner-city.[ReadMoreMob]
For those staying in the city, the authentic Chinatown rubs shoulders with both modern and Dutch Colonial buildings, while Buddhist and Hindu temples, Islamic Mosques and Christian churches point to the town's ethnic mix.
One of the most beautiful buildings is the Sam Po Kong Temple, built to honour the Chinese commander Cheng Ho and extensively renovated in 2006 on the 600th anniversary of his voyage to Semarang.[ReadMore]In the former Dutch quarter, the Oudstadt, is the Gereja Blenduk, the ''Doomed Church'' which is the oldest in central Java.
The overall style is neo-classical, but various local influences give it a rather idiosyncratic feel. Also worth seeing is the splendid Stasiun Tawang, the oldest railway station in the country
Top Experiences
Borobudur
This dramatic, enigmatic monument, which looms above rice fields and tropical forest, is one of Asia's cultural icons and is also the world's largest Buddhist monument. The main temple is built in three tiers, including a monumental stupa at the top.
Prambanan Temple
This exquisite temple complex, which can be visited independently, testifies to the peaceful co-existence of Hindus and Buddhists on Java. There are three temples dedicated to the great Hindu divinities – Shiva, Vishnu and Brahma – and three dedicated to the animals who serve them.