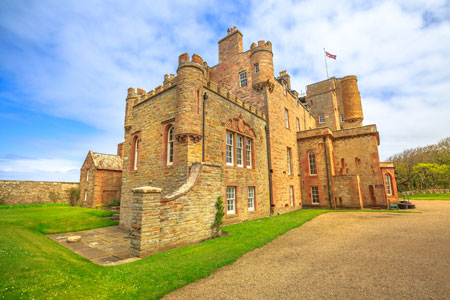 Located on the Scottish north coast in Thurso Bay, Scrabster is one of Scotland's most northerly, and most important, fishing ports.
Located just a short drive from the Castle of Mey and within walking distance of Thurso, Scrabster is the second largest town in the Highlands.[ReadMoreMob] This tiny settlement is a popular gateway to the Highlands and its beautiful rolling landscapes that cry out to be explored. Alternatively, the traditional fishing harbour and the hustle and bustle of the busy fish market are both worth experiencing.
Top Experiences
Scrabster Castle
Scrabster Castle, alternatively known as Bishop's Castle or Bishop's Palace, first recorded in 1328, is visible today as an earthwork and upstanding ruins. The area also
includes the remains of prehistoric settlement and World War II defences. Almost nothing now remains of the castle beyond a couple of grassy mounds and a rather more
modern pillbox built on the site.
Cruises to Scrabster
Departs: Dover • Tue 11 Aug 2020
16 nights • Boudicca • D2021
Embark on a mesmeric expedition to the remote regions and settlements of Greenland and revel in the spectacular natural beauty, unique culture and fascinating history of this remarkable country.
The experiences on offer are nothing short of incredible – highlights include a chance see and hear the creaking icebergs of Qooroq Ice Fjord up-close; and sail the immaculate Prins Christiansund.
You also get to immerse yourself in the authentic Norse heritage of Qaqortoq and enjoy an exclusive performance of traditional music and dance at Nanortalik's Open Air Museum.
From £2,199pp
Fares Explained
|
What's Included