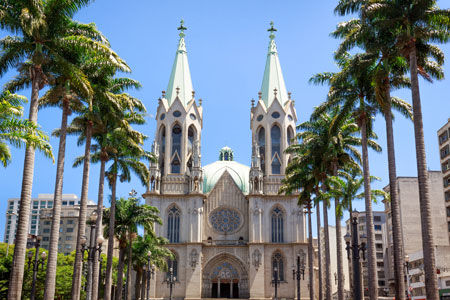 The biggest city in South America, Sao Paulo is also one of its most cosmopolitan. The art and architecture in Brazil's vibrant financial centre reflect the breadth of European, Asian and African influences its people bring.
This metropolitan beehive of activity can be bewildering and breath-taking in equal measure. Its iconic buildings range from the neo-Gothic Sao Paulo Cathedral – an astonishing a blend of Byzantine and Gothic styles with 14 towers – and the 1929 Martinelli Skyscraper to Oscar Niemeyer's sinuous Edifício Copan. The colonial-style Pátio do Colégio Church marks where Jesuit priests founded the city in 1554.
Culture can be found all over Sao Paulo. The Museu de Arte Moderna offers an excellent collection of paintings and sculptures, plus a delightful sculpture garden; the Museu Afro Brasil is devoted to the heritage of Brazil's African population; and the Memorial da America Latina, also designed by Niemeyer, is a contemporary concrete plaza surrounded by perfectly placed pavilions. These include a Hall of Creativity dedicated to Latin American folk-art. [ReadMore]
Sao Paulo Zoo, set in 80 hectares of the Parque do Estado, has more than 3,000 animals, many facing extinction in the wild. At the heart of the city, the Parque do Ibirapuera has over 200 hectares of green space to help the city breathe.
The third-largest metropolis on earth, Sao Paulo has a dizzying array of first-rate theatres and cinemas, nightclubs and bars, and its restaurants are among the world's best. Its relentless, 24/7 pulse is a test for even the most-seasoned explorer.