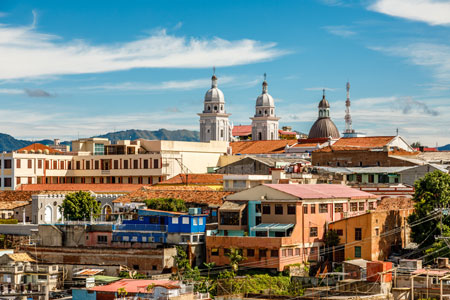 Nestling in the Sierra Maestra Mountains, Santiago is Cuba's second largest city and heralded for its cultural and artistic influence. The birthplace of many well-known Cuban musicians, artists and poets, the city is home to various galleries, museums and monuments, each celebrating the country's prominent cultural background.
Santiago de Cuba is a passionate, noisy delight beauty with a unique identity steeped in Afro-Caribbean history – the drum-beating July Carnaval is testament to this. The city's architecture stretches across many different periods from Baroque to Neoclassical, and the style varies noticeably from one alley way to the next. The steeped streets with their colonial buildings, beautiful parks and impressive cathedrals just beg to be explored. [ReadMore]
Velasquez Palace, the oldest building in Cuba, is a gem to discover. So too is the storied 17th century coastal fortress, Castillo de san Pedro, and the lavish Basilica Santaurio de Nacional. The Baconao Reserve presents a host of giant dinosaur sculptures, while some real wildlife can be tracked down in the tropical forest of Turquino National Park.
Away from the city centre, there are over 300 beaches within easy reach, if a spot of relaxing is the order of the day.
Cruises to Santiago de Cuba
Departs: Bridgetown • Thu 10 Dec 2020
13 nights • Braemar • M2032
Meet Braemar for a pre-Christmas cruise to Cuba and the Caribbean and prepare for the busy festive period with untouched landscapes, authentic cultures, beautiful beaches and much more
You can feel the unique black sands of St Vincent between your toes; admire the Amsterdam-esque architecture of Oranjestad, Aruba; and delve into the rich history of Falmouth and Santo Domingo.
Cuba is sure to be an undoubted highlight: after Santiago de Cuba, you'll stop overnight in Havana, affording time to explore historic districts, sample authentic Cuban rum, and even see the sights from an iconic classic car.
From £2,099pp
Fares Explained
|
What's Included