Santa Cruz, La Palma Cruises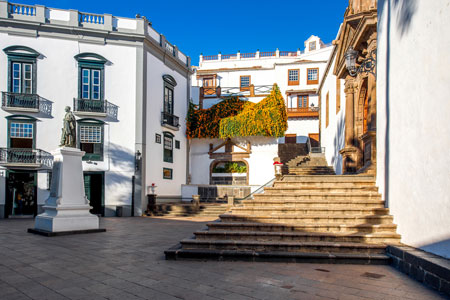 La Palma's small, yet pretty capital city - is one of the Canary Island's true gems. Boasting colonial-style architecture, a swathe of charming beaches, restaurants and bars, Santa Cruz is typically Canarian and has something for everyone.
Conquered by the King of Castile in the 15th century, Santa Cruz de La Palma was a key trading post between Spain and the Americas, and the city's fascinating history can be explored in the historic quarter – one of Spain's Historic-Artistic sites. The Naval Museum is a replica of Christopher Columbus's 15th-century Santa Maria sailing ship.
Stunning palaces and sumptuous merchants' houses butt up against the grand town hall, built during the reign of Phillip II. Religious buildings include the Renaissance-style Church of El Salvador, with a tower of volcanic stone, and the Church of Santo Domingo, which houses a superb collection of Flemish paintings. [ReadMore]
The compact city centre is incredibly picturesque, and the newly redeveloped beach and promenade have boosted the city's resort credentials. Calle Real, the city's main street, is famous for being both a Property of Cultural Interest and a Historic-Artistic Site. Santa Cruz's finest restaurants, shops and prettiest squares are found here, and sampling the delicious local cuisine and local culture is highly recommended.
Destination Highlights
Caldera de Taburiente National Park
Giving La Palma such character is the National Park of Caldera de Taburiente, covering approximately 4,600 hectares of the island. The volcanic crater is surrounded by the rugged peaks of El Roque de los Muchachos, Pico de la Cruz, Piedra Llana, Pico de la Nieve and Punta de los Roques – the highest of which is 2,426 metres high. The National Park includes streams and waterfalls and indigenous plant species.
The Old Town
The Old Town of La Palma is where you will find great examples of 17th century, late Renaissance buildings such as the Palacio de Salazar and the Plaza España – considered the most important example of Renaissance architecture in the Canary Islands. Take time to visit the Old Town independently, to appreciate the stunning structural design.
Santuario de la Virgen de las Nieves
The 17th century Santuario de la Virgen de las Nieves (Church of our Lady of the Snow) is located in the upper part of the town and houses the image of La Palma's patron saint, from the 14th century.