Santa Cruz, La Palma Cruises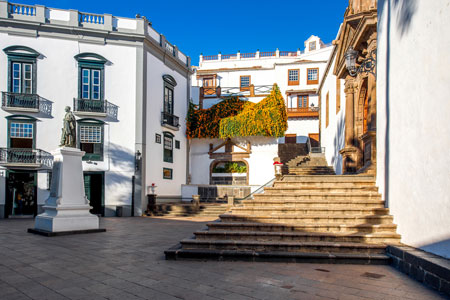 La Palma's small, yet pretty capital city - is one of the Canary Island's true gems. Boasting colonial-style architecture, a swathe of charming beaches, restaurants and bars, Santa Cruz is typically Canarian and has something for everyone.
Conquered by the King of Castile in the 15th century, Santa Cruz de La Palma was a key trading post between Spain and the Americas, and the city's fascinating history can be explored in the historic quarter – one of Spain's Historic-Artistic sites.[ReadMoreMob] The Naval Museum is a replica of Christopher Columbus's 15th-century Santa Maria sailing ship.
Stunning palaces and sumptuous merchants' houses butt up against the grand town hall, built during the reign of Phillip II. Religious buildings include the Renaissance-style Church of El Salvador, with a tower of volcanic stone, and the Church of Santo Domingo, which houses a superb collection of Flemish paintings.[ReadMore]
The compact city centre is incredibly picturesque, and the newly redeveloped beach and promenade have boosted the city's resort credentials. Calle Real, the city's main street, is famous for being both a Property of Cultural Interest and a Historic-Artistic Site. Santa Cruz's finest restaurants, shops and prettiest squares are found here, and sampling the delicious local cuisine and local culture is highly recommended.
Top Experiences
Biosphere Reserve
This reserve now covers the entire island and boasts a variety of diverse habitats which are home to a whole host of wildlife.
Stargazing
A 'starlight reserve,' Las Palma represents a perfect place to stargaze away from light pollution. The observatories at Roque de los Muchachos contain the largest optical telescope in the world.