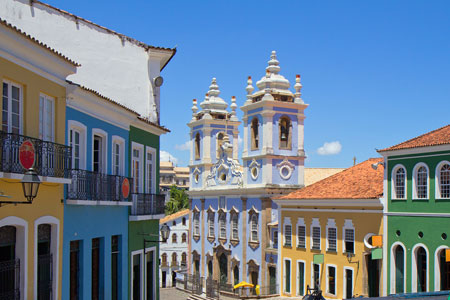 The festival city of Salvador has an energy and an austere beauty that rivals any Latin city. Originally the capital of Portugal's New World colony, Brazil's 'Capital of Happiness' is a living museum of 17th and 18th century architecture and gold-laden churches.
Salvador's Afro-Brazilian culture comes alive in the endless carnivals, parties and celebrations that make any visit a joy to behold.[ReadMoreMob] This vibrant atmosphere takes over the city regularly and visitors are encouraged to join in and soak up the immersive sights and sounds. Alternatively, the city's beautiful beaches like Porto de Barra, are the perfect place to relax, soak up the sunshine and get away from it all.
Clinging to the hills above a sparkling island-dotted bay, the city's Portuguese colonial architecture is on full show in the Pelourinho neighbourhood. This historic heart with cobblestone alleys opening onto large squares and baroque churches, is home to the lavishly-decorated São Francisco Church and Convent. [ReadMore]
Divided into an upper and lower section, the city is easy to navigate and the imposing public buildings in the cliff top Cidade Alta (Upper City) – monuments to the wealth generated by sugar-cane and tobacco, demand discovery. Elsewhere in the UNESCO-listed historic centre, the multi-coloured homes with red-tiled roofs, great market, and some 300 churches make this photogenic city irresistible.
Top Experiences
Pelourinho neighbourhood
This beautiful old neighbourhood represents one of the most picturesque old towns in The Americas, with pastel-coloured buildings complementing magnificent churches and cobblestone squares. Schools of music, dance and capoeira add cultural flair, too.
Capoeira
This Brazilian martial art form combines elements including self-defence, dance and acrobatics to create an energetic and enthralling display of movement. 'Capoeiristas' show off their skills in a circle called a 'roda', accompanied by music and song.
Morro de São Paulo
This car-free island is a wonderful place to relax, with many glorious beaches lapped by turquoise waters. The lighthouse is a great vantage point for views across Morro, while the town's history is visible in the fort and Church of Our Lady Light.
Cruises to Salvador
Departs: Southampton • Tue 04 Jan 2022
79 nights • Bolette • T2201
Immerse yourself in an intoxicating blend of history, culture and beauty as you discover iconic destinations and unforgettable highlights on an epic, in-depth exploration of Latin America.
You can have a private mass at Rio's legendary Christ the Redeemer; dance the tango in Buenos Aires; tour to magnificent Machu Picchu; and much more.
Scenic cruising by Cape Horn; through the Chilean Fjords spectacular mountains and glaciers; and navigating the Panama Canal will create everlasting memories.
From £8,299pp
Fares Explained
|
What's Included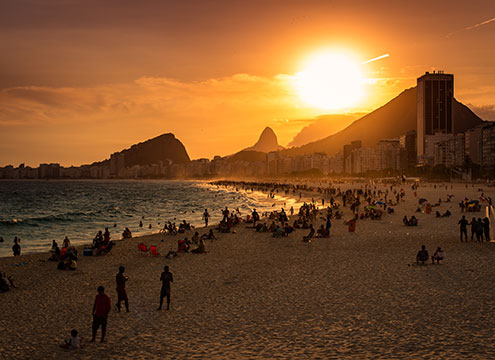 Departs: Southampton • Tue 04 Jan 2022
25 nights • Bolette • T2202
Seek out some of Brazil's most iconic attractions, from the world famous landmarks of Rio de Janeiro to legendary rainforests, on this epic voyage.
You can revel in unrivalled views from Sugarloaf Mountain, watch the sunset from Copacabana Beach, have a private mass at mighty Christ the Redeemer, and much more.
Explore historic Salvador and uncover gorgeous natural treasures at Ilhabela, plus visit attraction-packed Montevideo in Uruguay and a trio of beautiful Atlantic Ocean islands – Tenerife, Madeira and São Vicente.
From £3,599pp
Fares Explained
|
What's Included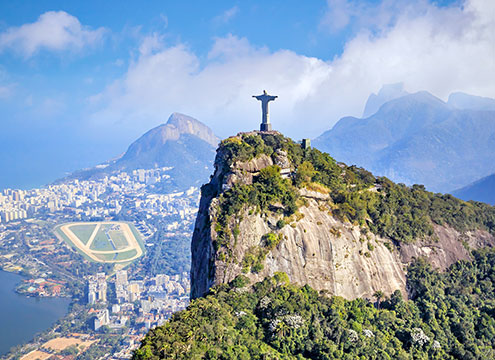 Departs: Southampton • Tue 04 Jan 2022
49 nights • Bolette • T220203
Experience the very best that one of the world's most intoxication regions has to offer, on this extensive, in-depth exploration of South America packed with countless highlights throughout.
After crossing the Atlantic, discover authentic Brazil, from the iconic sights and sounds of Rio de Janeiro to golden beaches and Atlantic rainforests within reach of Ilhabela.
Experience the contrasts of Patagonia in Argentina and Chile; discover arid frontiers and wonderlands of snow-capped peaks, plus experience scenic cruising of astonishing Chilean Fjords.
From £6,699pp
Fares Explained
|
What's Included