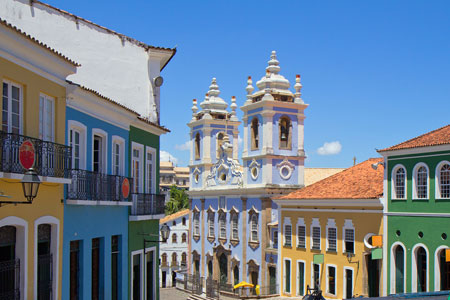 The festival city of Salvador has an energy and an austere beauty that rivals any Latin city. Originally the capital of Portugal's New World colony, Brazil's 'Capital of Happiness' is a living museum of 17th and 18th century architecture and gold-laden churches.
Salvador's Afro-Brazilian culture comes alive in the endless carnivals, parties and celebrations that make any visit a joy to behold.[ReadMoreMob] This vibrant atmosphere takes over the city regularly and visitors are encouraged to join in and soak up the immersive sights and sounds. Alternatively, the city's beautiful beaches like Porto de Barra, are the perfect place to relax, soak up the sunshine and get away from it all.
Clinging to the hills above a sparkling island-dotted bay, the city's Portuguese colonial architecture is on full show in the Pelourinho neighbourhood. This historic heart with cobblestone alleys opening onto large squares and baroque churches, is home to the lavishly-decorated São Francisco Church and Convent. [ReadMore]
Divided into an upper and lower section, the city is easy to navigate and the imposing public buildings in the cliff top Cidade Alta (Upper City) – monuments to the wealth generated by sugar-cane and tobacco, demand discovery. Elsewhere in the UNESCO-listed historic centre, the multi-coloured homes with red-tiled roofs, great market, and some 300 churches make this photogenic city irresistible.
Top Experiences
The Pelourinho
The heart of the old city is a postcard of Salvador. Founded in 1594 by Portuguese settlers, the pastel coloured renaissance buildings of the historic centre of Brazil's first city got its name from the main square in which slaves and criminals were once punished. It was also, from 1558, the first slave market in the New World, with slaves arriving to work on the sugar plantations. In 1985, UNESCO named the Pelourinho a World Heritage Site.
Samba
Samba is a lively, rhythmical dance of Afro-Brazilian origin in 2/4 time danced to Samba music. In the beginning of the 20th century, Brazilian Samba became more and more famous for its distinctive and catchy style of music, popularised by the black immigrants from Bahia in their attempt to incorporate the dance and the music into the local culture.