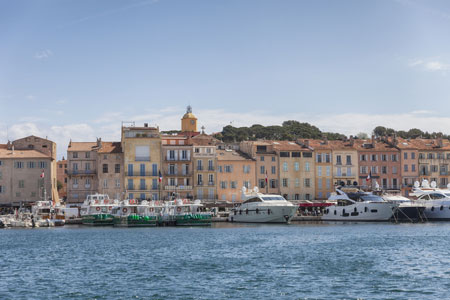 St Tropez in the Côte d'Azur region of south-eastern France is quite simply the most famous resort on the French Riviera, if not the whole of Europe. It has been a holiday hotspot since the 1950s, when the iconic film And God Created Women – starring Bridget Bardot – turned this unassuming, pretty fishing town into the spot for the 'jet-set'.
The glamorous town offers visitors a slice of the high-life with its high-end shops, trendy cafés, exclusive restaurants and sun-kissed beaches, which continue to attract the rich and famous from around the world. The cobblestoned La Ponche quarter recalls its past as a fishing village, but it's now luxury yachts that outnumber fishing boats in the Vieux Port (Old Port).
Away from hot spots such as the glorious Pampelonne Beach – which accommodates some 30,000 sun-worshippers topping-up their golden tans in the summer months – the Old Town is a hive of activity too. [ReadMore]
Packed with designer stores and boutiques, trendy back-street coffee shops, wait-listed restaurants and busy bars, the Old Town's jumble of narrow, crowded streets offer a glimpse into the glamourous lifestyle enjoyed by so many here. A serene side can still be found in some spots around the town where visitors can sip pastis, watch old men play pétanque beneath trees, or walk the beaches further up along the coastal path. However, for the most part, St Tropez is celebrity culture, gourmet food and hot nightlife.
Destination Highlights
Beaches of Saint Tropez
Saint Tropez instantly makes you think of sun and sea. There are around 40 beaches around the coast of St. Tropez, with many in St. Tropez itself. The most popular, arguably, is Pampelonne Beach (Plage de Pampelonne), made famous by Brigitte Bardot in the legendary scene from the film, 'And God Created Women'. Pampelonne Beach is 3 miles long and is lined with shops and cafes.
Brigitte Bardot
Brigitte Bardot is synonymous with St. Tropez and still lives here to this day. You can see the legend of Bardot throughout the city, from Pampelonne Beach, to a 2.5m statue of her, and her home on the outskirts of St. Tropez. And then there's the Gendarmerie & Cinema Museum. Housed in the building which was actually the gendarmerie (police station) from 1789-2003, this museum shows you unique cinematic history of St. Tropez. From the cult police films of the 1960s to a tribute to Bardot, this museum really captures the essence of Saint Tropez.
Marina and Yachts
St. Tropez is known for its luxurious yachts owned by the rich and famous. Take a tour around the harbour and see some of the world's biggest and best yachts, and keep your eyes peeled for celebrities.