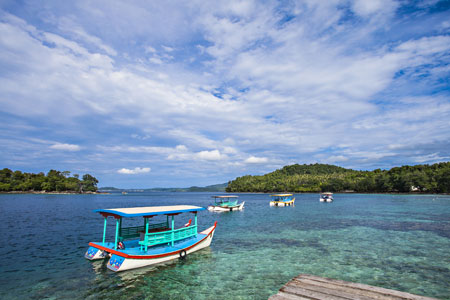 Although it has been a popular destination for in-the-know divers and hikers for decades, remote Weh Island – also known locally as Pulau Weh – has managed to stay off Indonesia's well-trodden beaten track. The island, much of which is part of a National Wildlife Protection Area, is beautifully unspoilt and boasts gorgeous beaches, dense jungle interiors and coral reefs that beg for exploration.
Weh's scuba diving and snorkelling spots are among the very best in Southeast Asia. The island's underwater canyons and rugged rocks are sanctuary's for a diverse array of marine flora and fauna, such as lionfish and clown fish, thorny seahorse, hawksbill turtle, Kuhl's stingray and whale sharks to name just a few.[ReadMoreMob] Wonderful wildlife awaits discovery within the depths of the island's lush volcanic landscapes too, including wild monkeys, lizards, boar and colourful butterflies. [ReadMore]
Sabang, Weh's capital, is a delight in itself, fronted by breathtaking, wind-swept white sands and surrounded by the rich rainforest of Puerto Princesa Subterranean River National Park. No time here is complete without venturing into Sabang to sample the local traditions and culture; visit the Monument of Kilometre Zero of Indonesia, Indonesia's westernmost point; and to take in historic sites such as the Japanese Fortress.
Top Experiences
Sea Garden
The nature reserve at Rubiah Island is known for its coral reefs, teeming with marine life. This wonderful ecosystem can also be experienced via a glass-bottomed boat.
Kilometre Zero
Kilometre zero is the milestone that many countries across the world use from which all distances are measured. In Indonesia, Kilometre zero sits on the beautiful Weh Island, which is surrounded by coral reef.