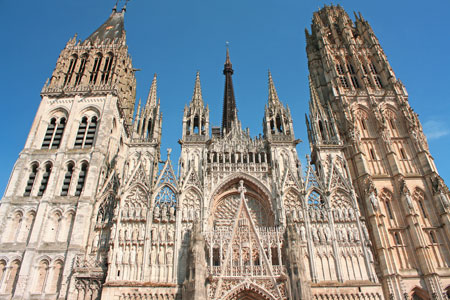 The 'City of a Hundred Bells', Rouen, is capital of the French region of Normandy. This 2,000-year-old port city on the River Seine, important in Roman times and the Middle Ages, is a unique city rich with monuments and museums.
Rouen's narrow pedestrianised streets lined with tall, half-timber houses and a statue marking the spot where Joan of Arc was burnt at the stake, is a pointer to the city's dark history. Devastated by fire, the plague and bombs in the past, modern Rouen is now a vibrant cultural centre, and one of Normandy's most engaging destinations.[ReadMoreMob]
The skyline is dominated by the spires of Cathédrale Notre-Dame, much-painted by Claude Monet. The Gothic churches of Saint-Maclou and Saint-Ouen are also must-see attractions, two of the best examples of gothic architecture in France and a important part of Rouen's history. [ReadMore]
The city's beautiful botanical garden – Jardin de Plantes de Rouen, is also worth a visit. Its 600 different plant species and various gardens, including a rock garden, rose garden and a garden full of medicinal plants, are a joy to wander through.
Top Experiences
Joan of Arc
Infamously burned at the stake in 1431, Joan of Arc is an important part of Rouen's history and is widely considered a heroine of France. To commemorate Rouen's most famous saint, the city erected a thoroughly modern church – Eglise Sainte Jeanne D'arc. Located at the Place du Vieux Marché, the very location of the martyrdom, the shape of the roof of the church and the small hallways evoke the flames of the stake.
Paris
Paris can be reached from Rouen on a two hour journey which will take you to the majestic capital of France, offering the opportunity to visit some of the iconic sights the city is famous for.