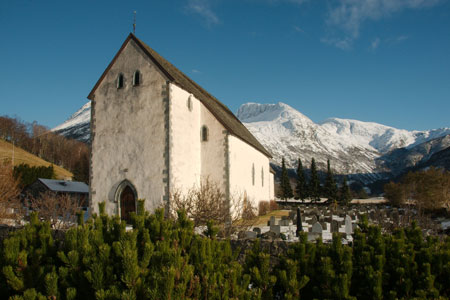 Tucked away between majestic mountains and rolling valleys at the heart of the Hardangerfjord, picturesque Rosendal is a truly memorable experience, not least because of the stunning journey along Norway's second longest fjord to get to it.
Once ashore, most attractions in this pretty village can be reached on foot, including the 13th century Kvinnherad Church, the fascinating Shipbuilding Museum, found down by the harbour, and the only Barony in Norway.[ReadMoreMob] Sat atop a hill overlooking the village, the Barony is a small castle which dates back to 1665. Today it's an interesting museum featuring a collection of tapestries, literature and porcelain, and an enchanting Renaissance rose garden.
While Rosendal itself is a wonderful place, the incredible natural scenery further inland is simply unmissable. Folgefonna National Park is a wonderland of ice-sculpted landscapes and glaciers, and includes Norway's third largest glacier, the Folgefonna. The area is one outstanding photo opportunity. Explore a little further, and the astonishing sights of the Bondhusbrea Glacier and Furebergfossen Waterfall can be discovered.
Top Experiences
Baroniet Rosendal
A manor house built in 1665 and known as Scandinavia's smallest 'castle'. The manor house was used as a home until 1927 and is preserved as the last owners left it, with traces of each previous owner. The library is preserved from its original state in the 17th century. You can take a guided tour of the house and the 60-acre gardens, including a Renaissance rose garden and a Victorian landscape garden.
Folgefonna National Park & Glacier
The Folgefonna National Park contains Norway's third largest glacier. The park was established in 2005 and spans 720km. At the park, you will also find a visitor centre with interactive exhibits and films to teach you about the glacier, the fjord and the local nature and wildlife.
Mountains
There are a number of mountains overlooking Rosendal, including Melderskin, Malmangernuten and Laurdalselva. Rosendal is perfect for hiking, and a trip up a mountain will provide amazing views of the landscape.