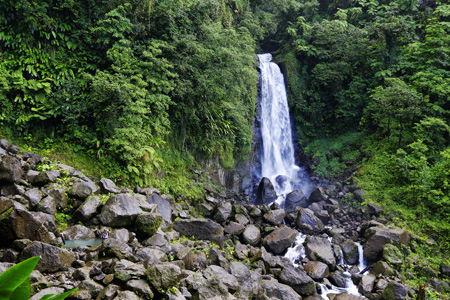 Roseau, Dominica's capital, is a compact, vibrant and charmingly chaotic city. The narrow streets, lined with 18th century Creole architecture, lead to beautiful gardens and a smart waterfront that looks out over the Caribbean Sea.
Roseau's cobblestone Old Market, formerly a slave auction site, sells local crafts and fresh fruit, while the Dominica Museum has exhibits on natural and cultural history. The Dominica Botanic Gardens is a great destination to view tropical flora and the native Sisserou parrots.
Roseau is a gateway to Dominica's exotic interior, which soars to a dizzying 4,700 feet. Visitors can uncover dense rainforest, deep lakes, breath-taking waterfalls and fast flowing rivers that make the island truly unique. The nearby Morne Trois Pitons National Park is one of Dominica's most impressive natural wonders; a UNESCO World Heritage Site and home to volcanic mountain ranges, mud ponds and 'The Boiling Lake'.
Destination Highlights
Emerald Pool
The Emerald Pool – one of Dominica's top natural attractions, located in the Morne Trois Pitons National Park – takes its name from the lush green setting at the base of a 12-metre (40- foot) cascading waterfall.
Champagne Reef
Dominica's top diving and snorkelling site, Champagne is considered to be one of the best spots in the Caribbean to snorkel. Underwater geothermal springs vent gasses in the form of thousands of warm bubbles, which gives visitors the unique and unusual feeling of swimming through a giant glass of champagne.
Mero Beach
The island of Dominica is home to several black sand beaches and one of the most popular amongst locals and visitors alike is Mero Beach. Mero, one of the island's most beautiful volcanic sand beaches, boasts calm, warm waters, and offers visitors the perfect spot to relax and soak up the sunshine.