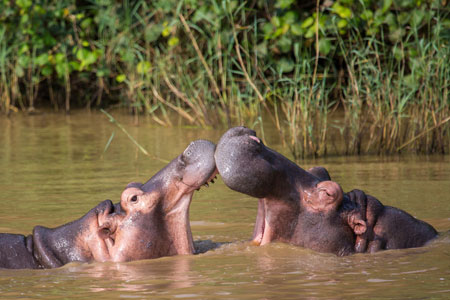 Situated on a huge lagoon off the Mhlatuze River, Richards Bay is a town in KwaZulu-Natal, South Africa, and has the deepest natural harbour in the Southern hemisphere.
The modern, thriving port town is surrounded by vast expanses of untouched indigenous scenery, natural lakes and marshes. Its unspoilt wetlands are teeming with wildlife including hippos, crocodiles and over 300 species of bird, which makes this natural paradise a much-sought-after destination.
Named after a British naval commander who landed troops on the Zululand coast in 1879, Richards Bay was a small fishing village until the port opened in 1976. The town offers excellent recreational activities and visitors enjoy art galleries, fishing, beachcombing, bird watching, swimming, canoeing and some classic drives around the bay.
Destination Highlights
Hluhluwe Game Reserve
One of the oldest game reserves in Africa, the Hluhluwe Game Reserve has great credentials. Stretching over 96,000 hectares of hilly landscape, it contains a diverse range of flora and fauna and was once the exclusive hunting ground of King Shaka. As you observe animals at close range from viewing hides, you really do feel part of the scenery.
iSimangaliso Wetland Park
This protected area is the third largest protected area in South Africa and was listed as South Africa's first World Heritage Site back in December 1999. Located in KwaZulu Natal, South Africa, this Wetland Park covers a 332000 hectares, and the St Lucia Estuary includes 526 species of birds – bird watchers heaven.