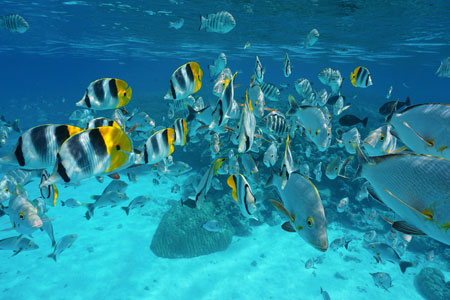 Rangiroa is one of the biggest atolls in the world, with a lagoon so vast that it could fit the entire island of Tahiti in it. Like nothing seen before, the earth-shatteringly beautiful and unspoilt island is a little more developed than others in French Polynesia, with a few paved roads and a collection of small shops and gourmet restaurants.
A ring of more than 240 islands, Rangiroa is over 70km long and 30km wide. The 'Endless Lagoon' is a magnet for divers, with beautiful coral, clear waters and an astonishing range of marine life – particularly where it opens into the ocean at Tiputa and Avatoru.
Getting close to this incredible undersea world can be by snorkelling, scuba diving or trips in glass-bottom boats and semi-submersible craft. The lagoon is home for dolphins, hammerhead sharks and humpback whales, which migrate through these waters each year. There's also a black pearl farm built out into the lagoon and open to visitors.
Destination Highlights
Black Pearl Farm
Rangiroa is famous for its production of high-quality black pearls. During your visit to the island, you can gain an insight into the process of pearl farming with a visit to the Black
Pearl Farm.
Natural Aquarium
Natural aquariums are found throughout French Polynesia, and allow you to explore the underwater world through snorkelling and swimming. Rangiroa's open-water aquarium provides you with the opportunity to discover its rich marine life.