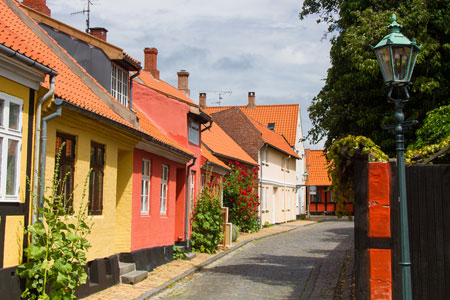 Rønne is the largest town on the small rocky island of Bornholm. The Danish town offers an historical charm with its cobblestoned streets and cross-timbered houses.
With its harbour, Rønne is Bornholm's centre of trade and culture, and home to the fortress ruins of Hammerhus and the island's distinctive round churches. Although large amounts of the town were destroyed during the war, it was rebuilt during the post war years, and many buildings look older than they actually are.
Hjorths Fabrik, the town's ceramics museum, features a working studio and master artisans who turn clay into beautiful works of art. Bornholm's Museum exhibits prehistoric finds including weapons, tools and jewellery. Both are fascinating highlights.
During the summer months Rønne's vast stretches of sand to the south and north of the town, are popular destinations.