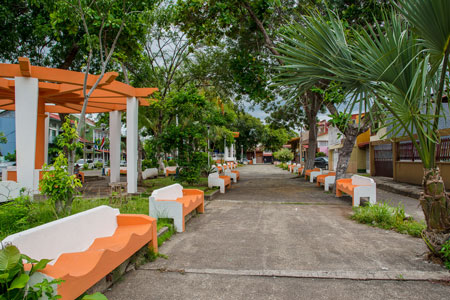 The port town of Puntarenas Costa Rica's Gulf of Nicoya, is the Central Pacific's largest city, and gateway to unique rainforest habitats. Once the country's principle hub for coffee exports, the city is now known for fantastic flora and fauna, sublime beaches, and as a base for an eco-adventure.

An important seaport for hundreds of years, Puntarenas' local fishing fleet still lands a wonderful variety of fresh sea food every day, often selling it directly from the wharf. The city is lively and attractive: the Paseo de los Turistas is a tree-lined boulevard packed with popular cafés, bars, restaurants and shops, and the many beautiful old buildings include a charming Portuguese church.

Parque Marino del Pacífico includes an aquarium and rescue centre with turtles, seahorses and crocodiles. The town beach, Playa Puntarenas, is backed by shops and cafes, while Playa Doña Ana further south is known for its strong surf.
Destination Highlights
Coffee
Coffee cultivation has been the primary source of income for many Costa Rican families since the turn of the 19th century. Thanks to the rich volcanic soil, coffee continues to be important to the country's economy. Puntarenas is home to one of the largest coffee growing areas in Costa Rica. The coffee is exported to other countries in the world as well as other cities in Costa Rica.
Sloths
Sloths are arboreal mammals noted for slowness of movement and for spending most of their lives hanging upside down in the trees of the tropical rainforests of South America and Central America. Sloths are plentiful in Costa Rica, however it can be difficult to spot them.