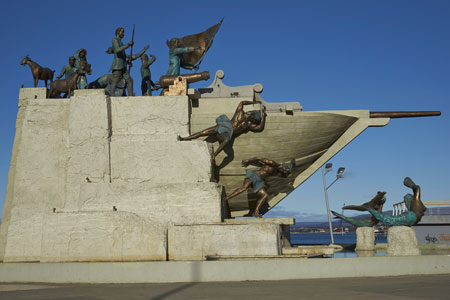 Just below Punta Arenas is a small monument that marks the "end of the Americas" although Chile lays claim to a small part of Antarctica as well.
However, for all its claim to be a frontier outpost, the town is remarkably cosmopolitan. There are fishermen mixing with pilots from the Chilean air force base, sharp-suited businessmen sipping wine in hotels and travellers hitching a ride out to Tierra del Fuego. The nearby penguin colonies are fascinating, while in the town itself there are several interesting museums.
The Museo del Recuerdo has collections of antique agricultural and industrial machinery, including a reconstructed sheep-shearing hut. In the library is a display of historic maps. The Naval and Maritime Museum has exhibits on naval history, as well as a replica ship, complete with bridge, maps, charts and radio room.
Palacio Mauricio Braun is a fabulous mansion built by a wealthy pioneer sheep farmer at the end of the 19th century. It was given to the Chilean state by one of Mauricio Braun's sons. It displays Braun's original furnishings, including French chairs and tables, inlayed wooden floors and Chinese vases.
Top Experiences
Magellan monument
Explorer Ferdinand Magellan was the first European to cross the Pacific Ocean and is credited for discovering the eponymous Strait of Magellan. His legacy is honoured in many ways including an impressive statue in Plaza de Armas, central Punta Arenas.
Strait of Magellan
Linking the Atlantic and Pacific oceans, the Strait of Magellan separates mainland South America with Tierra del Fuego. Along its 350 mile stretch, there are various points of interest, including Los Pingüinos Natural Monument and several national parks.
Magellanic penguins
This tiny island in the Strait of Magellan is home to thousands of Magellanic penguins, characterised by the horseshoe of black feathers on their chests. These sociable creatures live in a colony and are can often be seen playing or building nests.
Kawésqar and Selk'nam people
There may be few Kawésqar and Selk'nam people left in Patagonia, but their rich cultures can still be experienced in the region. Despite the harsh weather conditions, both peoples have survived for hundreds of years, primarily through hunting and fishing.
Cruises to Punta Arenas
Departs: Buenos Aires • Wed 29 Jan 2020
20 nights • Balmoral • L2001B
Experience a Patagonian exploration of epic proportions on board Balmoral, taking in breathtaking waterways, awe-inspiring ice fields and a string of unforgettable destinations along the way.
After a visit to glamourous Punta del Este, enjoy two rare calls to the Falkland Islands to unearth the fascinating history, picturesque scenery and endemic wildlife of this famously disputed archipelago.
A Chilean adventure includes visits to four diverse ports, including Puerto Chacabuco, gateway to the mountains of Lower Patagonia and the Andres; and scenic cruising of spectacular snow-capped Chilean fjords.
Please call our Reservations Team for latest pricing and availability.
Departs: Buenos Aires • Wed 29 Jan 2020
47 nights • Balmoral • L2001BC
With scenic cruising of incredible waterways and visits to stunning South and Central American destinations, topped off with time in the Caribbean, you're in for an expedition packed with highlights.
There's two rare calls in the Falklands; chances to marvel at the spectacular scenes of Lower Patagonia, the Andes and Chilean Fjords; and three days in Peru, with time to tour to magical Machu Picchu.
You'll also experience a navigation of the remarkable Panama Canal, and visit two historic cities in Costa Rica and Colombia, before enjoying a taste of paradise in Curacao, Bonaire, Barbados, Antigua and St Kitts.
Please call our Reservations Team for latest pricing and availability.