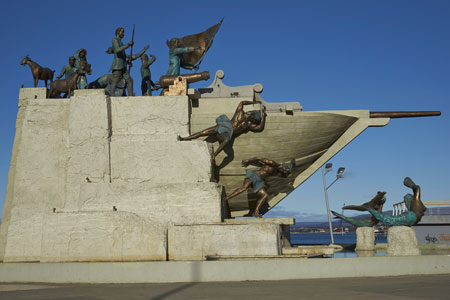 Just below Punta Arenas is a small monument that marks the "end of the Americas" although Chile lays claim to a small part of Antarctica as well.
However, for all its claim to be a frontier outpost, the town is remarkably cosmopolitan. There are fishermen mixing with pilots from the Chilean air force base, sharp-suited businessmen sipping wine in hotels and travellers hitching a ride out to Tierra del Fuego. The nearby penguin colonies are fascinating, while in the town itself there are several interesting museums.
The Museo del Recuerdo has collections of antique agricultural and industrial machinery, including a reconstructed sheep-shearing hut. In the library is a display of historic maps. The Naval and Maritime Museum has exhibits on naval history, as well as a replica ship, complete with bridge, maps, charts and radio room.
Palacio Mauricio Braun is a fabulous mansion built by a wealthy pioneer sheep farmer at the end of the 19th century. It was given to the Chilean state by one of Mauricio Braun's sons. It displays Braun's original furnishings, including French chairs and tables, inlayed wooden floors and Chinese vases.