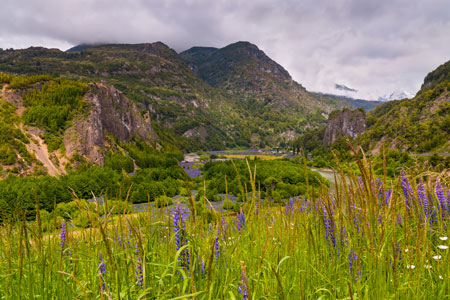 Surrounded by ice-clad mountains, Puerto Chacabuco is a busy port, but it was only built in the 1990s when the natural harbour at Puerto Aisen, further up the coast, became unusable. There are local tours available of lower Patagonia and the Andes Mountains, as well as through the Rio Simpson National Reserve. The Aikén del Sur Park is privately owned but can be visited: it is a haven for wildlife, especially of wetland birds.
Top Experiences
Aysen Fjord
The fjords of Chile offer some of the region's most dramatic scenery and Aysen Fjord, leading up to Puerto Chacabuco, is no exception. Stretching around 70km and flanked by jagged landscapes, Aysen Fjord is a highlight of the region, best seen by boat.
Marble Chapels
On the shores of General Carrera Lake are a number of mineral formations called the 'Marble Chapels' situated across three main islets. Water has eroded the formations over the years to create intriguing caves partially submerged in the turquoise waters.
San Rafael Glacier
This dramatic, icy blue glacier, with its steep edges and sheer size, is a spectacular sight and one of the biggest glaciers in the whole Northern Patagonian Ice Field. Located in San Rafael Lagoon National Park, the glacier is best viewed by boat.
Patagon people
Mystery surrounds the Patagon people, or Patagonian Giants - inhabitants of the region who were reportedly up to four metres tall. First recorded by Ferdinand Magellan in 1520, the Patagonia Giants became a popular myth for many years to come.
Cruises to Puerto Chacabuco
Departs: Buenos Aires • Wed 29 Jan 2020
20 nights • Balmoral • L2001B
Experience a Patagonian exploration of epic proportions on board Balmoral, taking in breathtaking waterways, awe-inspiring ice fields and a string of unforgettable destinations along the way.
After a visit to glamourous Punta del Este, enjoy two rare calls to the Falkland Islands to unearth the fascinating history, picturesque scenery and endemic wildlife of this famously disputed archipelago.
A Chilean adventure includes visits to four diverse ports, including Puerto Chacabuco, gateway to the mountains of Lower Patagonia and the Andres; and scenic cruising of spectacular snow-capped Chilean fjords.
Please call our Reservations Team for latest pricing and availability.
Departs: Buenos Aires • Wed 29 Jan 2020
47 nights • Balmoral • L2001BC
With scenic cruising of incredible waterways and visits to stunning South and Central American destinations, topped off with time in the Caribbean, you're in for an expedition packed with highlights.
There's two rare calls in the Falklands; chances to marvel at the spectacular scenes of Lower Patagonia, the Andes and Chilean Fjords; and three days in Peru, with time to tour to magical Machu Picchu.
You'll also experience a navigation of the remarkable Panama Canal, and visit two historic cities in Costa Rica and Colombia, before enjoying a taste of paradise in Curacao, Bonaire, Barbados, Antigua and St Kitts.
Please call our Reservations Team for latest pricing and availability.