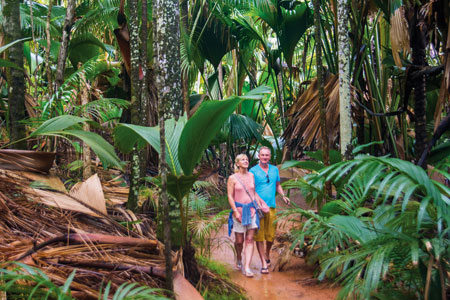 Total relaxation is on offer on the white sandy beaches of Praslin Island in the Seychelles. Originally the perfect hideaway for pirates, it is now the epitome of a tropical paradise, with crystal blue seas and tropical forests.

Home to beautiful beaches (which frequently make the top ten lists of best beaches) and rare bird species, Praslin Island is everything you would expect of a tropical experience. The UNESCO-protected palm forest of Vallée de Mai located in Praslin National Park to the south of the island, and the ancient coral reefs just off-shore that are popular with divers, combine to make this a truly special place.
Destination Highlights
Anse Lazio
The Seychelles are renowned for their stunning beaches, and one of the most beautiful – and famous – on the island of Praslin is Anse Lazio. Often voted one of the world's most beautiful beaches, Anse Lazio is framed by granite boulders at each end, and boasts fine white sand and stunning calm turquoise waters.
Vallee de Mai
Located at the heart of the island in Praslin National Park is the UNESCO World Heritage Site of Vallée de Mai. This nature park, believed by some to be the original site of the Garden of Eden, is one of only two locations where the legendary Coco de Mer, the world's heaviest nut, grows high on ancient palms. It is also home to a variety of unique wildlife, including the rare Seychelles black parrot.
La Digue
The beautiful, laid-back island of La Digue is the fourth largest island in the Seychelles, and is well worth a visit during your time here. This beautiful island, which is an approximate 25 minute ferry ride from Praslin, features granite boulders and palmfringed beaches, including Anse Source D'Argent – one of the most photographed beaches in the world.
Curieuse Island
Curieuse Island is a small granite island situated just off the north coast of Praslin and is steeped in nature and history. The island was originally known as the Red Island until the French claimed possession in 1768 and renamed it 'Curieuse' after a schooner. In the 19th century the island became a leper colony and evidence of this can still be seen today. Curieuse is renowned for being one of two islands where the rare Coco de Mer palm grows.
Vallee de Mai & Anse Lazio
Praslin Island, in the spectacular Seychelles, is home to two of the Indian Ocean islands' most beautiful and sought-after sites - the Vallee de Mai reserve and Anse Lazio beach. Mystical Vallee de Mai is famous for its coco de mer (double coconut) trees, producing the world's largest seeds, and rare black parrots; while Anse Lazio is widely regarded as one of the best beaches on earth.