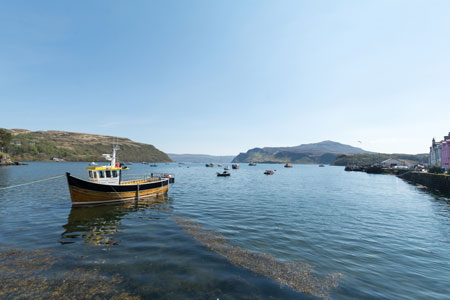 Portree is the Isle of Skye's largest and liveliest town. Set within a pretty natural harbour with brightly-coloured houses and surrounded by rocky cliffs and rolling hills, Portree is a truly beautiful place to explore.
Its name (from the Gaelic for King's Harbour) commemorates James V, who arrived here in 1540 to pacify the local clans.[ReadMoreMob] The town is a popular tourist destination, thanks to its stunning coastline and interesting attractions that include the Aros Centre and the An Tuireann Arts Centre, which celebrate the island's Gaelic heritage.
Portree also serves as a gateway to other attractions on the island, such as the intriguing rock formations at Trotternish Ridge, north of the town, the ruins of Tusdale, and the peninsula unflatteringly known as 'The Lump', which once provided a setting for public hangings.
Top Experiences
Old Man of Storr
Located north of Skye, the Storr is the highest point on the Trotternish Ridge – the longest geological landslide in Great Britain, which has resulted in spectacular scenery stretching for more than 30 kilometres (18 miles). The Old Man of Storr – Bodach an Stòrr in Gaelic – is a large, impressive rock pinnacle which rises to 535 metres (1,755 feet) and dominates the area.
Dunvegan Castle
No visit to the Isle of Skye would be complete without discovering Dunvegan Castle, Scotland's oldest continuously inhabited castle. Situated on a rocky outcrop on the shores of Loch Dunvegan, approximately 35 kilometres (22 miles) from Portree, the castle has been the home of the Chiefs of Clan MacLeod for 800 years. On display here are a magnificent collection of oil paintings and clan treasures, including the Dunvegan Cup and the Fairy Flag, which is said to have magical properties. The estate also boasts extensive gardens with trees, plants, flowers and streams.
Eilean Donan Castle
Situated on its own small island overlooking the Isle of Skye, Eilean Donan Castle is one of the most iconic sights of Scotland. One of the country's most recognisable castles, this impressive fortress often appears in photographs, films including Highlander and The World Is Not Enough, and – most famously – on shortbread tins. The castle was founded in the 13th century and was home to Clan Mackenzie and Clan Macrae. After it was partly destroyed in 1719 during a Jacobite uprising, the castle lay in ruins for almost two centuries until Lieutenant Colonel John Macrae-Gilstrap purchased the island in 1911. Over the years the castle was restored to itsformer glory and it reopened in 1932.
Cruises to Portree Isle of Skye