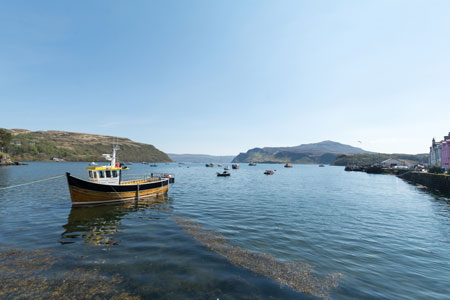 Portree is the Isle of Skye's largest and liveliest town. Set within a pretty natural harbour with brightly-coloured houses and surrounded by rocky cliffs and rolling hills, Portree is a truly beautiful place to explore.
Its name (from the Gaelic for King's Harbour) commemorates James V, who arrived here in 1540 to pacify the local clans. The town is a popular tourist destination, thanks to its stunning coastline and interesting attractions that include the Aros Centre and the An Tuireann Arts Centre, which celebrate the island's Gaelic heritage.
Portree also serves as a gateway to other attractions on the island, such as the intriguing rock formations at Trotternish Ridge, north of the town, the ruins of Tusdale, and the peninsula unflatteringly known as 'The Lump', which once provided a setting for public hangings.