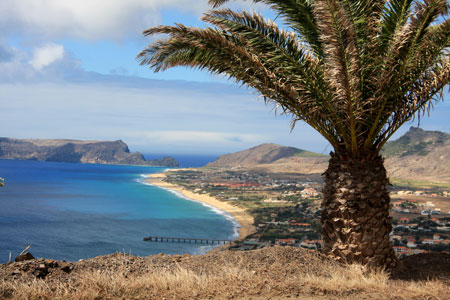 Porto Santo is a small island in the Portuguese archipelago of Madeira, offers a superb chance to get away from it all and is renowned for its warm waters, dive sites and the long, sandy Porto Santo Beach.

A number of museums in the capital, Vila Baleira, points to the island's past. The Museu Cardina has interesting exhibits, while Christopher Columbus House Museum has displays on maritime history in the Italian explorer's former home.

Away from the town, and near the summit of Ana Ferreira peak, the Pedreira Viewpoint has sweeping views of the Atlantic from its towering rock face of multihued columns.
Destination Highlights
Christopher Columbus Museum
It's claimed Cristopher Columbus lived here with his wife Dona Filipa Moniz in the late 1470s while still a sugar trader. The museum contains exhibitions on the colonisation of the New World and Colombus' voyages.
Landscape/beaches
The landscape on the northern coast of the island is entirely different to that of the south. Rugged mountains with sheer drops into the sea contrast greatly with the flat expanse of beach to the south but offer awe-inspiring views and interesting examples of volcanic rock formation. Enjoying the beach may have therapeutic benefits: burying yourself in the sand is said to bring relief from rheumatism and arthritis.