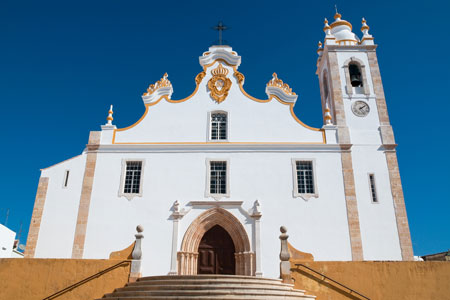 Portimão is a port city to the western end of the Algarve region of southern Portugal. The town is known for its excellent sandy beaches with plenty of warm, calm waters, which visitors find very alluring.
Portimão's long fishing tradition was developed between the 19th and 20th centuries and established a strong canning industry and a busy marina.[ReadMoreMob] Indeed, in its old quarter, Museu de Portimão is housed in a restored 19th century cannery, and has exhibits on local history.
The simply styled Chapel of São José de Alcalar is not to be missed, while the impressive Church of Nossa Senhora da Conceição (Our Lady of the Immaculate Conception), built in the 15th century on top of a hill, stands out on the city's skyline. The church was badly damaged by the 1755 earthquake, but retains its beautiful original Gothic portal and azulejo tiles.
To the south of the town Rocha Beach, backed by ochre cliffs, is worth a stroll and skirts the medieval Fort of Santa Catarina de Ribamar.
Top Experiences
Praia da Rocha
The bustling waterfront area of Portimão – Praia da Rocha – is a fantastic place to relax and soak up the sunshine. Here you will find a beautiful stretch of beach with golden sands, rocky cliffs and glorious waters. Running along the top of the beach is Tomas Cabreira Avenue, a lively pedestrianised street with pretty landscapes and a variety of bars, cafés and places to eat. Nearby is the marina with multi-coloured buildings and gorgeous scenery.
Silves
The quaint city of Silves, which sits on the banks of the Arade River, was once the Moorish capital of the Algarve and is today a tranquil town filled with orange and lemon trees.