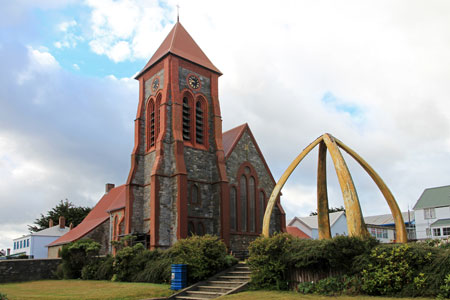 Named after Edward Stanley, Secretary of State for War and the Colonies when the settlement began in 1843, it became the capital in 1845. Port Stanley is home to the world's most southerly Cathedral – Christ Church. The arch in front is said to be the most photographed sight in the islands: it is made from the jawbones of two blue whales. The Islands Museum has extensive displays on the 1982 conflict with Argentina, as well as exhibits about the islands' history, flora and fauna.
A stroll outside the town gives the chance to experience the stunning scenery and wildlife.[ReadMoreMob] The unpolluted air makes it possible to see even distant mountains clearly and the wildlife – penguins may come to inspect you – is astonishing in its variety. And after the walk there should be time for a drink in one of the two pubs in town.

Top Experiences
Enchanting birdlife
The Falkland Islands are a haven for birdlife, with a wide variety of interesting species to be found in amongst the island's landscapes. Commonly spotted birds include gentoo and king penguins, black-browed albatrosses and southern giant petrels
The Kelpers
So-called because of the vast amount of kelp found around the islands, Kelpers is the nickname for the people of the Falkland Islands. The majority of the 3,000 or so Kelpers are of British descent, with a strong British culture found across the islands.
Cruises to Port Stanley
Departs: Buenos Aires • Wed 29 Jan 2020
20 nights • Balmoral • L2001B
Experience a Patagonian exploration of epic proportions on board Balmoral, taking in breathtaking waterways, awe-inspiring ice fields and a string of unforgettable destinations along the way.
After a visit to glamourous Punta del Este, enjoy two rare calls to the Falkland Islands to unearth the fascinating history, picturesque scenery and endemic wildlife of this famously disputed archipelago.
A Chilean adventure includes visits to four diverse ports, including Puerto Chacabuco, gateway to the mountains of Lower Patagonia and the Andres; and scenic cruising of spectacular snow-capped Chilean fjords.
Please call our Reservations Team for latest pricing and availability.
Departs: Buenos Aires • Wed 29 Jan 2020
47 nights • Balmoral • L2001BC
With scenic cruising of incredible waterways and visits to stunning South and Central American destinations, topped off with time in the Caribbean, you're in for an expedition packed with highlights.
There's two rare calls in the Falklands; chances to marvel at the spectacular scenes of Lower Patagonia, the Andes and Chilean Fjords; and three days in Peru, with time to tour to magical Machu Picchu.
You'll also experience a navigation of the remarkable Panama Canal, and visit two historic cities in Costa Rica and Colombia, before enjoying a taste of paradise in Curacao, Bonaire, Barbados, Antigua and St Kitts.
Please call our Reservations Team for latest pricing and availability.