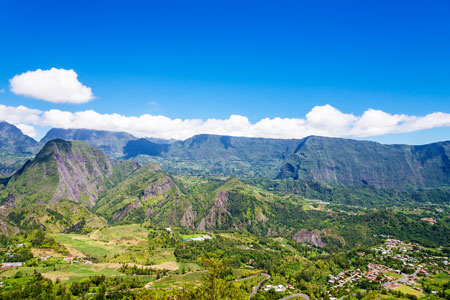 A republic of France, Port Réunion is like is like a tropical version of the French Riviera, with gourmet restaurants – many run by descendants of the original pioneers, sandy beaches and chic boutiques.
The Caribbean island's lush, sweeping landscapes and mountainous interior are just waiting to be explored, as are the southern villages which appear to be frozen in time. Their charming creole houses remain as they were fifty years ago. More than 8,000 imported labourers built the docks here and many of these Portois stayed on in these shacks.
Following investment by the French Government, the island now has a modernised port, new housing, green spaces, and the creation of a superb boulevard, Ocean Avenue, linking the Old Port, soon to be a marina, with the city.
Some 23 whale and dolphin species visit the waters off the west coast of Réunion. From June to October the exhilarating spectacle of humpbacks breaching can be witnessed, after they've made the epic swim from Antarctica.
Destination Highlights
Piton de la Fournaise, Port Reunion
The island of Reunion is famous for its volcano, Piton de la Fournaise, which is one of the most active volcanoes in the world. Located within the UNESCO World Heritage Site of Reunion National Park, the volcano is over 500,000 years old, and since the 17th century it has erupted more than 150 times.
Cirque de Salazie, Port Reunion
The island of Reunion is volcanic in origin and boasts stunning landscapes. It is known for its three cirques (calderas) and the largest of these natural amphitheatres is Cirque de Salazie. The cirque features lush vegetation, steep gorges, cascading waterfalls and beautiful vistas at every turn. Situated on the edge of the cirque is Hell-Bourg, a beautiful mountain village.
Piton Maïdo, Port Reunion
Reunion is an island boasting a whole host of natural treasures, and one of the most popular is Piton Maido. Situated in Reunion National Park, Piton Maido stands an imposing 2,200 metres (7,217 feet) above sea level, and offers breathtaking panoramas over the Cirque de Mafate – one of the three calderas on the island – and the west coast of Reunion.
Reunion Island Lava Tubes
Formed by the many eruptions of Piton de la Fournaise over several centuries, Reunion's Le Grand Brulé is a six Kilometre wide volcanic scene of basalt columns, black cliffs and lava fields. Exploring this area safely on foot affords opportunities to marvel at these impressive natural formations, and stroll over and under lava tunnels laden with remarkable stalactites and stalagmites.