Port Klang (Kuala Lumpur) Cruises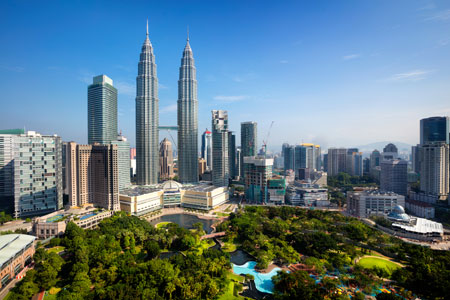 Port Klang is the main gateway to Malaysia. While principally a hopping-off point for Kuala Lumpur, the country's largest seaport does have a fine reputation for excellent seafood.
The skyline of the nearby capital, Kuala Lumpur, is dotted with minarets and Mogul-style domes but dominated by the 451m-tall Petronas Twin Towers: a pair of glass-and-steel-clad skyscrapers with Islamic motifs and connected by a dizzying public skybridge and observation deck. The city also features British colonial-era landmarks such as the Kuala Lumpur Railway Station and the Sultan Abdul Samad Building.
This incredibly diverse city is awash with multicultural character; its colourful streets, shaded by the leafy canopies of banyan trees, are lined with the most delicious food stalls selling local specialities like dim sum and wonton noodles.
On a different level, glitzy air-conditioned malls such as Pavilion Kuala Lumpur and Mid Valley Megamall offer designer fashion and bargains, while Bangsar and Publika are the places to go for goods from offbeat independent designers.
A walk down these streets as they transform from soaring skyscrapers to busy coffee shops and then to lush green parkland with blossoms and ponds, is a truly unforgettable experience.
Destination Highlights
Petronas Towers
No visit to Port Klang would be complete without admiring Petronas Towers, Kuala Lumpur's iconic structures. Designed by architect Cesar Pelli, these imposing 88-storey buildings were the world's tallest from 1998 to 2004, reaching a height of over 370 metres (1,213 feet).
Batu Caves
Located in Selangor, the Batu Caves are a popular tourist attraction, and not to be missed. This limestone hill features a series of caves and cave temples and is the shrine of Lord Murugan, a Hindu deity. The caves are the focal point of Thaipusam, an annual Hindu festival that attracts thousands of visitors. A magnificent statue of the Hindu God, measuring more than 42 metres (137 feet) high, greets visitors, while a climb of 272 steps takes you to the entrance of the impressive caves.
KL Tower
Often eclipsed by the nearby, taller Petronas Towers, the Menara KL Tower, which opened to the public in 1996, is one of the world's highest telecommunication buildings. The impressive tower, situated on top of a small hill, reaches 421 metres (1,381 feet) in height, and boasts both a revolving restaurant and observation deck, which stands at 276 metres (905 feet) high.