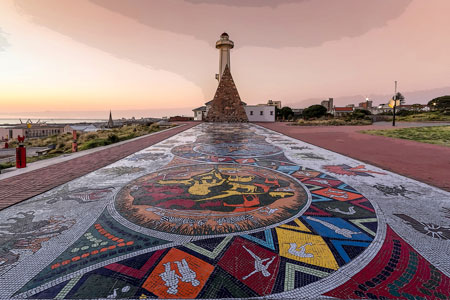 Steeped in history and known for its incredible weather, Port Elizabeth provides the complete South African experience. On the fringes of Algoa Bay at the western end of the Sunshine Coast, the area is renowned for its diverse marine life, sublime beaches and top water sports.
Founded in 1820, much of the city's history is evident today in the architecture of Fort Frederick and the Campanile Bell Tower – both part of the Donkin Heritage Trail that allows visitors to follow in the footsteps of the original 1820 Settlers on their journey of discovery and settlement.
From its darker past, Port Elizabeth is now the place to meet people and easily lives up to its nickname, the 'friendly city'. Most things in the centre are on tap: bars, music, art and photographic spaces – all part of constant clash of cultures. The Nelson Mandela Metropolitan Art Museum at the entrance to St George's Park has a small gallery of paintings and sculpture by contemporary South African artists, and is a real treat to view.
Nearby, the Addo Elephant Park offers the chance to encounter the rare Addo Elephant, among a variety of other game, while a safari experience at the Kariega Game Reserve takes visitors in search of the 'Big Five'. The 54 hectare Settler's Park in the city centre is a nature lover's paradise, boasting the most beautiful flora and fauna.
Destination Highlights
Addo Elephant Park
Located in the Eastern Cape landscape is the Addo Elephant Park, which is home to over 550 elephants. It is the third largest national park in South Africa and features a wide range of flora and fauna. Established in 1931 to save 11 elephants on the verge of extinction, now home to more than 350 of them, 280 Cape buffalo, black rhino, a range of Antelope species, as well as the rare flightless dung beetle.
Townships
Townships are a massive part of South African life and Port Elizabeth is no different. Home to thousands of locals, many tourists may not have experienced this one culture before.