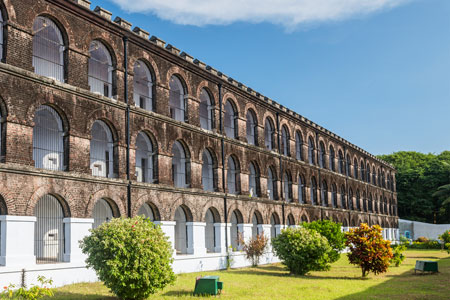 Surrounded by tropical forest and rugged Indian coastline, lively Port Blair is the largest city of the Andaman and Nicobar Islands group. The city is an eclectic mix of Indian Ocean people – Tamils, Bengalis, Nicobarese and Burmese, and while most visitors don't hang around for long, Port Blair's absorbing history demands further exploration.
Port Blair is busy, cosmopolitan and friendly, with plenty to do and see from the Tuk Tuk's that ride around the city.[ReadMoreMob] The Aberdeen Bazaar forms the centre of the town, where most of the restaurants and bars can be found.
The Museums of Anthropology, Fishery and Naval Marine are all small but interesting, while the Mini Zoo, recently moved to a new location, has species that are unique to these islands. The Cellular Jail completed in 1906, is now a pristine national monument with a peaceful garden. This is in contrast to its use as a brutal British penal colony, and is now a memorial to Indian independence activists.
There self-contained nirvana of Havelock Island, which can be reached by catamaran, is a place for peace and tranquillity, as well as a snorkelling paradise. Nearby Ross Island, which has many ruins from the island's notorious past, also makes for a rewarding trip.
Top Experiences
Andaman Birds
The small settlement of Chidiya Tapu, at the southern tip of South Andaman, boasts lush mangroves, thick forests and sandy beaches. It's ideal for birdwatching. Species you may spot include Alexandrine parakeets and endemic Andaman woodpeckers and treepies.
Andaman Archipelago
Of the 572 islands that make up the Andaman archipelago, only nine are open to tourists. These include Havelock Island, home to world-renowned beaches, and Ross Island, where ruins from the British occupation offer a glimpse into the island's past.
Cruises to Port Blair
Departs: Cape Town • Thu 31 Oct 2019
28 nights • Boudicca • D192627
From going in search of the 'Big Five' on exhilarating safari adventures and discovering fauna-rich coral reefs to exploring unspoilt islands and indulging in pure relaxation at picture-perfect beaches, this enthralling cruise packs in memorable, once-in-a-lifetime experiences throughout.
You can tour to breathtaking South African game reserves from Port Elizabeth and Richards Bay; seek-out lemurs, chameleons and much more in Madagascar; marvel at the Indian Ocean's largest lagoon at Mayotte; and see giant land tortoises on the uninhabited island of Moyenne in the Seychelles.
Quintessential Seychelles beaches such as idyllic Anse Lazio await at Praslin Island, before calls at Malé and Colombo offer a taste of authentic Maldivian and Sri Lankan life. Then, in the Andaman Sea, the natural beauty of the Andaman Islands and fabulous Phuket awaits you.
From £3,999pp
Fares Explained
|
What's Included
Departs: Victoria • Thu 14 Nov 2019
28 nights • Boudicca • D192728
In just under a month, you'll visit sun-kissed scenic islands in the Indian Ocean, the Andaman and Indonesia in search of impressive natural and man-made wonders, captivating wildlife, postcard-perfect beaches and more – an incredible way to forget about cold and gloom back home in the UK.
Meet Boudicca in the Seychelles, where you'll spend time in Mahé and Praslin Island; visit the Maldives for idyllic atolls and tropical resorts; call at Colombo, Sri Lanka's picturesque, culture-rich capital; and bask in the astounding beauty of the Andaman Islands and Idyllic Phuket.
Your Indonesian exploration includes chances to explore Weh Island's fauna-rich jungle and warm, clear waters; visit Java Island's sensational Borobudur Temple; marvel at the Gunung Rinjani volcano on Lombok Island; go ashore at Komodo Island; and sample paradise at beautiful Bali.
From £3,699pp
Fares Explained
|
What's Included
Departs: Victoria • Thu 14 Nov 2019
14 nights • Boudicca • D1927
Instead of suffering the cold, wet weather back home as winter approaches, you'll be hopping between a string of paradise islands in the Indian Ocean and the Andaman Sea. Postcard-perfect beaches, beautifully unspoilt island landscapes, iconic scenes and much more awaits you.
During a week of Indian Ocean island exploration, you can visit UNESCO-listed Vallée de Mai and relax at Anse Lazio – one of the world's best beaches – in the Seychelles; seek-out idyllic Maldivian atolls during a call at Malé; and take in Colombo's collection of diverse attractions in Sri Lanka.
In the Andaman Sea, bask in the breathtaking natural beauty of the Andaman Islands and Phuket, the 'Pearl of the Andaman'. You'll have chances to visit fauna-rich national parks; seek-out some of Asia's most spectacular beaches; and even ride a speedboat to legendary Phang Nga Bay.
From £1,199pp
Fares Explained
|
What's Included