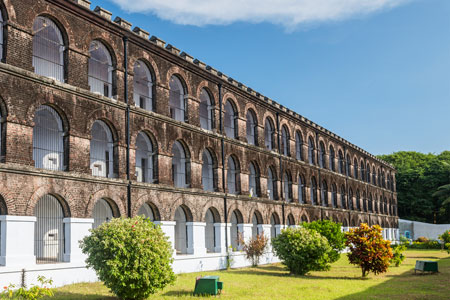 Surrounded by tropical forest and rugged Indian coastline, lively Port Blair is the largest city of the Andaman and Nicobar Islands group. The city is an eclectic mix of Indian Ocean people – Tamils, Bengalis, Nicobarese and Burmese, and while most visitors don't hang around for long, Port Blair's absorbing history demands further exploration.
Port Blair is busy, cosmopolitan and friendly, with plenty to do and see from the Tuk Tuk's that ride around the city.[ReadMoreMob] The Aberdeen Bazaar forms the centre of the town, where most of the restaurants and bars can be found.
The Museums of Anthropology, Fishery and Naval Marine are all small but interesting, while the Mini Zoo, recently moved to a new location, has species that are unique to these islands. The Cellular Jail completed in 1906, is now a pristine national monument with a peaceful garden. [ReadMoreDesk]This is in contrast to its use as a brutal British penal colony, and is now a memorial to Indian independence activists.
There self-contained nirvana of Havelock Island, which can be reached by catamaran, is a place for peace and tranquillity, as well as a snorkelling paradise. Nearby Ross Island, which has many ruins from the island's notorious past, also makes for a rewarding trip.
Top Experiences
Andaman Birds
The small settlement of Chidiya Tapu, at the southern tip of South Andaman, boasts lush mangroves, thick forests and sandy beaches. It's ideal for birdwatching. Species you may spot include Alexandrine parakeets and endemic Andaman woodpeckers and treepies.
Andaman Archipelago
Of the 572 islands that make up the Andaman archipelago, only nine are open to tourists. These include Havelock Island, home to world-renowned beaches, and Ross Island, where ruins from the British occupation offer a glimpse into the island's past.