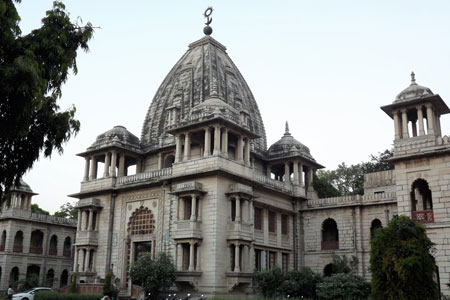 Porbandar, a coastal city in the Indian state of Gujarat, is the birthplace of the 'Father of India' and the loyal friend and devotee of Lord Krishna, Sudama. As a result, Porbandar is of great religious and spiritual importance, and a place of pilgrimage for Hindus across the world.
Porbandar's fascinating history dates back to the Harappan age (1600-1400BC).[ReadMoreMob] Its ancient port served as a vital trade link to Arabia and countries in the Persian Gulf, and had close ties to some of India's great religious and spiritual figures.
Best known as the birthplace of Mahatma Gandhi and Sudama, Hindus make the pilgrimage to visit various dedicated temples and museums. The must-see Kirti Mandir, a memorial dedicated to Gandhi, is on the site where ancestral properties of the Gandhi family once were, and contains various pictures and paintings depicting the life and influence of Mahatma.
The Krishna Sudama Temple, dedicated to the friendship between Lord Krishna and Sudama, is another of Porbandar's unmissable attractions, while the beautiful temple of Sir Hari is well worth a visit too.
Top Experiences
Mahatma Gandhi
Porbandar is known worldwide as the birth location of Mahatma Gandhi. Kirti Mandir, the home of Gandhi, houses a museum with some of his possessions and old photographs, a Gandhian library and prayer hall.
Sudama Temple
Sudama temple was constructed in 1902 and 1907 at the centre of the city. It is one of India's most exceptional temples and is dedicated to the best friend and great devotee of Lord Krishna. It is said that due to the depletion of funds during the time of construction, the devotees collected money by organising drama shows. The temple has a plaque that depicts this entire phase of depletion and collection of funds for the temple.
Local industry
Over the past few years, Porbandar has shown a remarkable improvement in local industries. The fishing industry is the major industry in the city, providing job opportunities for the majority of the population. The salt plains and boat building industries are also present in Porbandar.