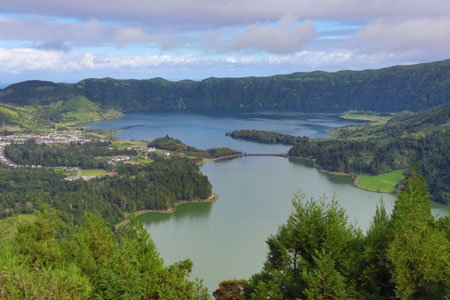 Ponta Delgada, the main town on the island of São Miguel, is the capital of the Azores archipelago of Portugal. The town's cosmopolitan atmosphere belies its 500 year history, and the surrounding island boasts beautiful lakes, mountains, sandy beaches and the stunning crater lakes of the extinct Sete Cidades volcano.
A fine collection of buildings, narrow cobbled streets and squares, are a firm reminder that this was once a key staging post between Europe and the Americas.[ReadMoreMob] Intermingled are cool parks, enchanting squares, a modern marina, restaurants and waterside cafés. Its lakeside, whitewashed houses with terracotta roofs look out to enchanting mountain plains.
The striking, three-arched city gates, Portas da Cidade – which once stood in the harbour and now reside in Gonçalo Velho Cabral Square, were dedicated to the Portuguese navigator who discovered the Azores. The Gothic Church of St. Sebastian and The Convent and Chapel of Our Lady of Hope, which is home to a revered image of Christ, are both worth uncovering. The Carlos Machado Museum offers diverse artefacts of Azorean culture, while Igreja Matriz Church, with its splendid clock tower, is one of many beautifully ornate towers to be found.
The 'Green Island' also offers canoeing and other sports activities on lakes located in the craters of its dormant volcanoes. The island's beauty can also be enjoyed by horse riding or cycling.
Top Experiences
Sete Cidades Crater Lakes
The extinct volcano of Sete Cidades is located approximately 575 metres (1,886 feet) above sea level, and its crater is home to a magnificent twin-lake. Although the lakes are one body of water, they are made from two separate craters, and have different depth and colours. One is blue, reflecting the sky, and the other is bright green due to the beautiful rich vegetation that surrounds it. The crater lakes offer excellent photo opportunities.
Ribeira Grande
The oldest town on the island, Ribeira Grande is located approximately 18 kilometres (11 miles) from Ponta Delgada. The charming town comprises narrow streets lined with buildings from the 17th and 18th centuries. Of particular note is the 17th century Espirito Santo Church, built in the Baroque style.
Furnas Valley
The island of São Miguel is known for its outstanding natural beauty, and one of the must-sees when visiting here is the Furnas Valley. The area is known for its volcanic activity, and the Furnas Valley is home to hot sulphur springs and steaming fumaroles known for their therapeutic qualities.
Fire Lake
The Fire Lake, also known as Lagoa do Fogo, is one of the top natural attractions in the Azores. Considered to be one of the most beautiful lakes on the island, Lagoa do Fogo is situated in the crater of an extinct volcano, and is surrounded by mountains and lush vegetation.