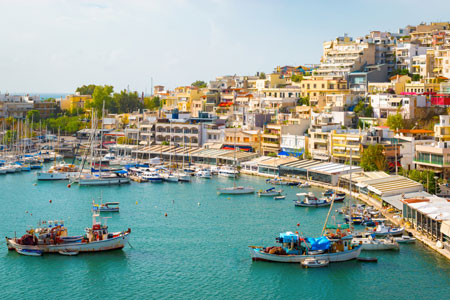 The port city of Piraeus has a vast, interesting history that extends back to the Ancient Greeks. From its beginnings in the 5th Century BC handling the country's growing import trade to one of the most important passenger ports in Europe today, Piraeus has long served as a gateway to Athens.
The biggest port in the Mediterranean, the most attractive quarter of Piraeus lies around Zea Marina and Mikrolimano harbour. The latter is lined with welcoming cafes, restaurants and bars. Most visitors' experience of the port, however, is when briefly passing through for the Greek capital.
Athens – one of the world's oldest cities, is mystical and engrossing, a city that's steeped in ancient history and antiquity. Over 3000 years old, the city serves as the world centre for archaeological research. Its ancient alleyways and winding streets lead to an impressive array of must-visit museums, ancient churches and some the world's most significant historic sites.
Athen's landmarks include the Acropolis, the hilltop citadel stood proudly above the city and topped with ancient buildings like the colonnaded Parthenon Temple. This iconic temple was built in dedication to the Greek goddess of strategy and tactics, Athena, and is over 2500 years old. The National Archaeological and Acropolis Museums preserve priceless sculptures, vases and jewellery from the site.
Below, in the heart of the city, lies the ancient Plaka District. A popular tourist spot, Plaka is home to some fine examples of neoclassical architecture, pretty pedestrianised streets and charming shops and cafes. There are also a number of historic Roman ruins here, as well as the Agias Apostoli – one of the oldest churches in Athens, and the Temple of Hephaestus from 5BC.
Destination Highlights
Parthenon, Acropolis
Perched high above the whitewashed homes and the winding lanes of Athens is the Acropolis, an ancient citadel. One of the most famous sites in the world, the Acropolis is home to the glorious 2,500 year old Parthenon, which dates from the Golden Age. This incredible piece of architecture is the iconic temple our minds flit to when conjuring up images of Greece. The temple was dedicated to Athena, goddess of wisdom whom the people of Athens considered their patron, and is considered one of the most important monuments from Classical Greece.
Plaka
The ancient Plaka district lies in the heart of the city of Athens – a honeycomb of streets, quaint shops and tavernas that come alive at night. The area, which is the oldest district in Athens and is situated beneath the Acropolis, almost feels like an island within the city and is an ideal way to experience authentic Greek culture.
Ancient Corinth
Once one of the most powerful cities of the Classical world, ancient Corinth is an important archaeological site located approximately 80 kilometres (50 miles) from Athens. Excavations of the site began in 1896, and have since revealed impressive remains, including the ruins of the Temple of Apollo, one of the oldest surviving Doric temples.