Philipsburg, St Maarten Cruises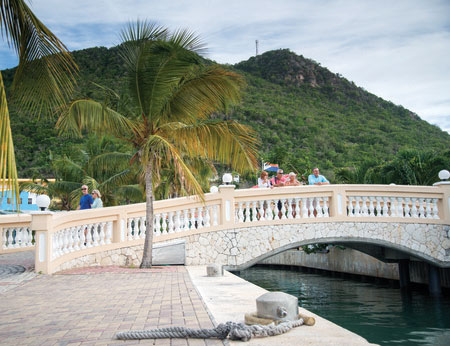 Philipsburg is the capital of the Dutch half of St. Maarten, a Caribbean island amicably shared between Holland and France for centuries. The town is known as a shopper's paradise, while its charming sandy beach, studded with colourful clapboard restaurants and outdoor cafés, is accessible via water taxi.
Front Street, Philipsburg's long main street, is festooned with shops, but the alleys and courtyards down to Back Street are also worth exploring. There are some stylish restaurants, but the Lo-Lo huts, which sell grilled chicken, fish and cakes from home-made barbecues, are great for a cheap snack of authentic Caribbean food.
This tiny island was divided between the Dutch and French in the 1600s, as a bastion against the Spanish. This melting pot of rich cultures and old-world charm was supposedly divided up by someone from each country walking round the coastline in opposite directions until they met up again.
Two historic forts reflect the island's colonial past: Fort Amsterdam, built in 1631 and soon after captured by the Spanish, offers fine views over Philipsburg from the original walls, and Fort Willem, built by the British during the Napoleonic War.