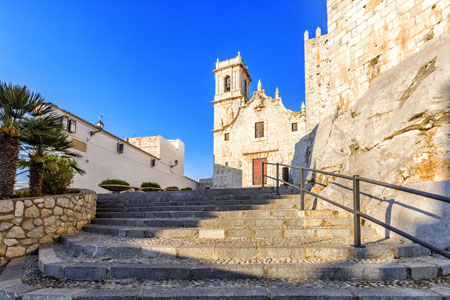 Known locally as the 'City in the Sea', the old town of Peniscola in the eastern Spanish province of Castellón, is a fortified seaport built on a spectacular rocky promontory, joined to the mainland by a narrow strip of land.
Also known as the 'Gibraltar of Valencia', Peniscola is a town with a strong fishing tradition; its seafood – and the classic paella in particular – is strongly recommended. The coastal town is known for beaches like Pebret and Norte. Norte is a calm, wheelchair-friendly beach that goes on forever and is perfect for swimming and sunbathing. It is backed by the pleasant palm-tree-lined Paseo Marítimo promenade. The southern coastline is steep and rocky, dotted with tiny beaches and isolated coves.
The historic old town of cobbled streets and whitewashed houses is very picturesque. The dominating 13th century Peniscola Castle has panoramic views of the coast and Artillery Park, which is full of lavender and olive trees. It was once the residence of Pope Benedict XIII, and used to represent Valencia in Anthony Mann's film, El Cid.
Exhibits at the Museo de la Mar reveal the town's nautical history, while Serra d'Irta Natural Park is home to Mediterranean woodlands and the fascinating Torre Badúm watchtower.
Destination Highlights
Valencia, Peniscola
The port city of Valencia lies on Spain's southeastern coast, where the Turia River meets the Mediterranean Sea. It is known for its City of Arts and Sciences, with futuristic structures including a planetarium, an oceanarium and an interactive museum. Valencia also has several beaches, including some within nearby Albufera Park, a wetlands reserve with a lake and walking trails. It is the third largest city in Spain.
Medieval Walls & Castle, Peniscola
The old town is entered through one of two gateways through the medieval walls. The Fosch Gate is by the Plaza del Caudillo and was the main entrance into the city until the 18th century. The Porteta Gate leads to the old town from the harbour. The castle, perched on a large ridge overlooking the sea, offers a glimpse of its past at a time when knights and battlemented fortresses occupied the lands of El Maestrazgo. Pope Benedict XIII, known as 'Papa Luna', chose this as a place of seclusion and to launch the fight for the unity of the Catholic Church. The fortress stands on the highest point of the peninsula. The parade ground serves as a delightful balcony over the Mediterranean, and its keep is the perfect place to see a panoramic view of the coastline. In spring and summer, this walled enclosure hosts a Spanish comic film festival and a festival of old and Baroque music.