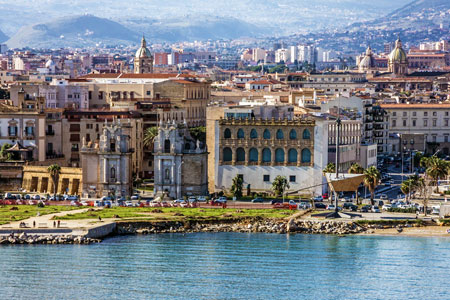 Sicily's ancient capital, Palermo, has been around for nearly 3,000 years since its foundation by Phoenician traders. At the crossroads of civilisation, Palermo offers an intoxicating mix of history: a city on the edge of Europe and at the heart of the ancient world.
Romans, Arabs, Normans, Spanish and Austrians have all contributed to Palermo's epic history and culture. They have left their imprint on a rumbustious city whose atmospheric amalgam of often shabby back-streets, lively markets and weathered monuments epitomises all the colour and contradictions of a city that is so splendidly Sicilian.
The 12th century Palermo Cathedral houses royal tombs, while the huge neoclassical Teatro Massimo is Italy's biggest opera house and renowned for outstanding performances. The centre is also home to the Palazzo dei Normanni, a royal palace started in the 9th century, and the Cappella Palatina, with Byzantine mosaics.
Busy markets include the central Ballarò street market and the Vucciria, near the port, and the ever-growing number of vibrant eateries and bars add to the magical blend of this historic city.