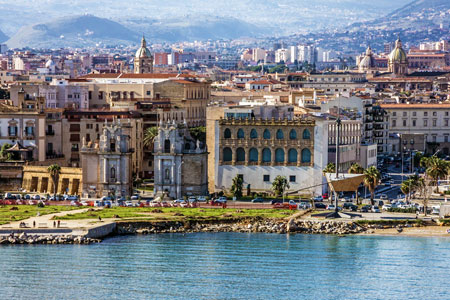 Sicily's ancient capital, Palermo, has been around for nearly 3,000 years since its foundation by Phoenician traders. At the crossroads of civilisation, Palermo offers an intoxicating mix of history: a city on the edge of Europe and at the heart of the ancient world.
Romans, Arabs, Normans, Spanish and Austrians have all contributed to Palermo's epic history and culture. They have left their imprint on a rumbustious city whose atmospheric amalgam of often shabby back-streets, lively markets and weathered monuments epitomises all the colour and contradictions of a city that is so splendidly Sicilian.
The 12th century Palermo Cathedral houses royal tombs, while the huge neoclassical Teatro Massimo is Italy's biggest opera house and renowned for outstanding performances. The centre is also home to the Palazzo dei Normanni, a royal palace started in the 9th century, and the Cappella Palatina, with Byzantine mosaics.
Busy markets include the central Ballarò street market and the Vucciria, near the port, and the ever-growing number of vibrant eateries and bars add to the magical blend of this historic city.
Destination Highlights
Mafia
The Mafia, also known as Cosa Nostra, a network of organised crime-groups based in Italy and America, evolved over centuries in Sicily, an island ruled into the mid-19th century by a long line of foreign invaders. In Sicily, the term 'mafioso,' or Mafia member, initially had no criminal connotations and was used to refer to a person who was suspicious of central authority. By the 19th century, some of these groups emerged as private armies, or 'mafie,' who extorted protection money from landowners and eventually became the violent criminal organisation known today as the Sicilian Mafia.
Gelato
It was in Sicily that sorbetto was born. Originally made with sugar, new fruit juices, and snow, the history of gelato dates back to the 16th century. It is not known exactly who invented gelato, but it is widely believed that Florentine Bernardo Buontalenti created the first gelato in the 16th century as a gift for Caterina di Medici. Word of gelato spread quickly around Italy, and many began experimenting with the recipe. Gelato was made available in Paris years later through the Café Procope, owned and operated by Francesco Procopio dei Coltelli of Sicily. Gelato spread throughout Italy, sparking regional variations along the way.