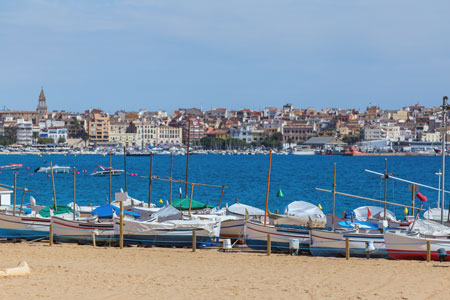 The town of Palamos, at the eastern end of a wide bay in the Mediterranean Costa Brava, is an idyllic haven of relaxation. Located on the coast of Girona, this Catalan delight has a fine reputation for seafood and is home to inviting azure waters, vast stretches of warm golden sands and a busy commercial harbour.
Palamos' most popular attractions are the beautiful beaches of Platja Gran, La Fosca and Castell. The charming natural coves of Cala Margarida and Cala Estreta are a particular favourite of locals and visitors alike. Adventurous types can head out to sea and try a range of water sports including kayaking, diving and water skiing.
In town, sampling the delicious Palamos prawns – said to be the best in the world – in one of over seventy restaurants is highly recommended.
Destination Highlights
Fishing History
Take a deep dive into one of the Costa Brava's most important industries at the Fishing Museum (Museu de la Pesca), located on the waterfront right next to the fish market. The interactive museums has exhibits about the history of fishing, the various techniques employed over the years and examples of boats and angling equipment. The on-site teaching kitchen also offers fish cooking classes and fish tasting.
Salvador Dalí
Immerse yourself in the world of Salvador Dalí, and learn about his life and works with a visit to The Salvador Dalí Museum, located in the artist's birthplace of Figueres. The museum is the largest surrealist work of art in the world and features the most diverse collection of works by Salvador Dalí.