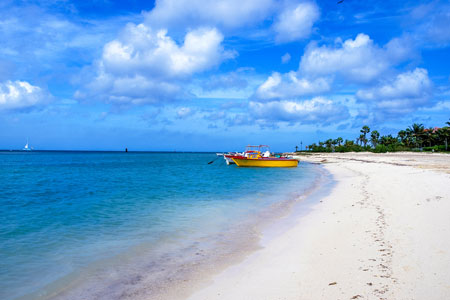 Oranjestad is the capital of the Dutch island of Aruba, in the Caribbean Sea. The vividly coloured colonial buildings that mirror those in Amsterdam, clearly point to Oranjestad's rich Dutch heritage. The city is one of the Caribbean's true gems, combining European-style architecture with glorious white sand beaches, palm trees and flamingos.
Along the waterfront, L.G. Smith Boulevard is dotted with boutiques, shopping malls, restaurants and bars. The harbour, packed with fishing boats and yachts, has stalls selling fresh fruit and fish, and the open-air cafés are to perfect spot to enjoy the sights and sounds of this busy port.
The 18th century Fort Zoutman and the Willem III Tower, formerly a lighthouse, is now the Historical Museum, while The Archaeological Museum displays indigenous artefacts - ceramics, ancient tools, burial urns and other relics, dating back as far as 2500 BC. [ReadMore] The Numismatic Museum has almost 50,000 coins, collected by three generations of a single local family.
Queen Wilhelmina Park is a peaceful place to walk, with formal lawns and tropical plants, and other sights include the island's Butterfly Farm and the Natural Bridge of Aruba. Of course, visitors can simply relax on the glorious beaches, where flamingos are occasionally spotted balancing on the pristine sands.
Top Experiences
Aloe
Aruba's economy was once dependent upon aloe. The Aruba Aloe Balm Facility, located at the Hato Plantation outside of town that dates back to 1890, tells the fascinating story.