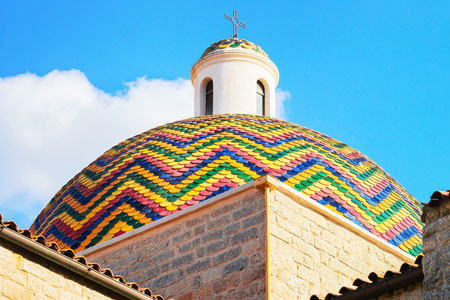 Situated on the beautiful North East coast of Sardinia, Olbia is often ignored in the dash for the fashionable Costa Smeralda resort, but the port has more to offer than first meets the eye.
This handsome city, with its centro storico (historic centre), is laden with chic boutiques, wine bars and cafe-rimmed piazzas. It also has a number of historic structures and archaeological sites well worth discovering. These include the beautiful 11th century Basilica of San Simplicio and the Church of St. Paul Apostle. Several of Sardinia's impressive, fortress-like Nuraghes still remain including the hilltop Nuraghe Riu Mulinu.
Called the 'happy city' by the Greeks, ancient Olbia is a wonderful place to explore and enjoy in the soothing Sardinian sunshine. On the palm-lined waterfront to the east, the Museo Archeologico di Olbia has Roman warships to discover. [ReadMore]
Just north from the city is Costa Smeralda, a millionaire's paradise which is popular with celebrities and wealthy business people who visit to top-up their tan on the gorgeous golden-sand beaches – said to be among the finest on earth – and make the most of the warm, crystal clear waters.
Cruises to Olbia
Departs: Liverpool • Thu 02 Sep 2021
24 nights • Borealis • S2121
Embark on a voyage of discovery packed with typical experiences associated with some of Italy's most beautiful and inspirational regions, towns and cities.
Immerse yourself in the beauty and romance of the Amalfi Coast; be charmed by the Italian Riviera; and head to Tuscany, for tours to legendary Pisa or beautiful Florence.
Elsewhere, there's a rare visit to Milazzo on the gorgeous shores of Sicily; and calls at Civitavecchia – gateway to Rome, the Sardinian city of Olbia, and Roman-influenced Salerno.
From £3,699pp
Fares Explained
|
What's Included