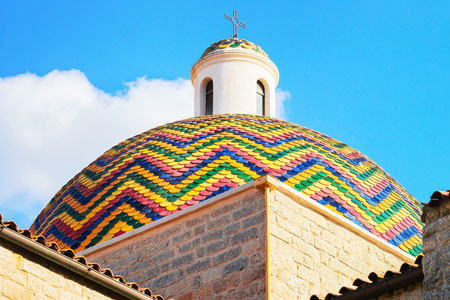 Situated on the beautiful North East coast of Sardinia, Olbia is often ignored in the dash for the fashionable Costa Smeralda resort, but the port has more to offer than first meets the eye.
This handsome city, with its centro storico (historic centre), is laden with chic boutiques, wine bars and cafe-rimmed piazzas. It also has a number of historic structures and archaeological sites well worth discovering. These include the beautiful 11th century Basilica of San Simplicio and the Church of St. Paul Apostle. Several of Sardinia's impressive, fortress-like Nuraghes still remain including the hilltop Nuraghe Riu Mulinu.
Called the 'happy city' by the Greeks, ancient Olbia is a wonderful place to explore and enjoy in the soothing Sardinian sunshine. On the palm-lined waterfront to the east, the Museo Archeologico di Olbia has Roman warships to discover. [ReadMore]
Just north from the city is Costa Smeralda, a millionaire's paradise which is popular with celebrities and wealthy business people who visit to top-up their tan on the gorgeous golden-sand beaches – said to be among the finest on earth – and make the most of the warm, crystal clear waters.
Destination Highlights
Costa Smeralda
Back in 1962, flamboyant millionaire Karim Aga Khan established a consortium to buy a strip of unspoiled coastline in northeastern Sardinia. Each investor paid roughly US$25,000 for a little piece of paradise, and the coast was christened Costa Smeralda (Emerald Coast). Located between the Gulfs of Arzachena and Cugnana, the Costa Smeralda or Emerald Coast gets its name from the azure colour of the sea. This extraordinary vista is frequently visited by the rich and famous and is a haven for the international jet set and a mooringspot for numerous oversized yachts.
The ancient ships of Olbia
In 1999, during a periodic check on excavation in the harbour at Olbia, archaeologists made a sensational discovery: they found, imbedded in the mud, not only an incredible number of objects belonging to a vast time span, but eight hulls of Roman wrecks and five medieval ones. These famous Roman cargo ships, dated V century A.D. and originally from 18-30 metres long, were situated on top of the deepest layer. You can learn more about the ancient ships at The Archaeological Museum (Museo Archeologico).