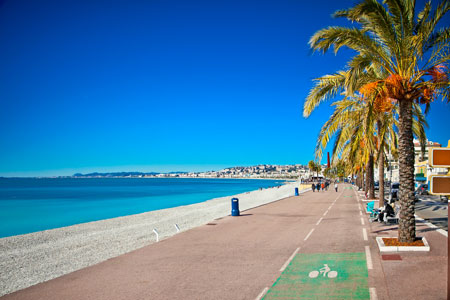 Known as the "Queen of the Riviera", Nice is a beautiful, sun-kissed city that attracts visitors from around the globe. The capital of the Côte d'Azur curves beautifully round the Bay of Angels, and is as gorgeous as it is glamourous. Home to the famous Promenade des Anglais, Nice has been a magnet for sun seekers and high-rollers since the 19th century. And most still come to the city to sample the authentic French Riviera lifestyle.
The palm-fringed beach hugs the azure sea on one side, while the other side is lined with Belle Époque buildings.[ReadMoreMob] The city centre is awash with Italian inspired architecture, vast squares and historic monuments to admire, as well as a vast array of shops and market stalls perfect for retail therapy. Be sure to visit the Italian Baroque Church of Saint Giuame, the Cathédrale Sainte Réparate, the Musée Matisse and the Chagall Museum, all must-visit attractions.
At the eastern end of Quai des États-Unis lies the 300ft high Castle Hill, which offers beautiful waterfalls, pools and parks, as well as breath-taking views of Vieux Nice and the bay.
Destination Highlights
Promenade de Anglais
Arguably the most famous seafront in France, and certainly in Nice, the Promenade des Anglais is a must-visit. Stretching along the entire Baie des Anges (Bay of Angels), this iconic four kilometre promenade has long been a popular spot with the rich, famous and those looking to sample a taste of the 'jet-set' lifestyle.
Henri Matisse
The famed French painter Henri Matisse lived in Nice between 1918 and 1954, residing in the Hotel Regina building from 1938. Walking around Nice you can spot many of Matisse's inspirations, but the three main points of interest you must see are the Hotel Regina, the Musée Matisse and the Chapelle du Rosaire.
The Musée Matisse houses one of the world's largest collections of Matisse's work, as well as objects from his life, while The Chapelle du Rosaire (Rosary Chapel) is a chapel in Vence, decorated by Matisse and referred to as his 'masterpiece'.
F1 Monaco Grand Prix
The Monaco Grand Prix is a once in a lifetime experience. The Monaco Grand Prix is a Formula 1 highlight, 'the one to win', and takes place right in the heart of Monaco. Drivers have to make their way through the winding streets on this tricky circuit, so it's sure to provide much excitement.